Students have mixed reactions to Snapchat's "MyAI"
In late April, Snapchat introduced a new feature called "MyAI," a chatbot that allows users to initiate interaction and establish a pseudo-friendship without engaging in human contact. While the purpose of "MyAI" is to be a helpful tool to users, CHS students have had mixed opinions on the new resource. 
According to Beebom, which covers technology-related news, based on OpenAI's GPT technology, Snapchat's "My AI" is an example of social media platforms following the "artificial intelligence trend" popularized in the past few months. Powered by ChatGPT, Snapchat's "My AI" acts as a friend to Snapchat users by adapting to specific users as they use the technology.
Some students have found the combination of the AI's ability to retrieve large amounts of information and the easy access it provides to users to be extremely helpful. In some instances, students have even utilized "MyAI" for help with schoolwork.
"I think it's helpful for homework, not to do it [for me], but to learn," said sophomore Itzel Sevillano. "I've learned things through it."
However, to other students, "MyAI" has come off as unappealing. Its responses feel mysterious, even "creepy," as students don't know exactly who — or what — is writing them.  
"It's very creepy, I think," said junior Maya Mimram. "It's very weird. I don't like it. I'm very confused [by] who's typing or where it comes from." 
Some students have also expressed concerns over the disarmingly easy access that "MyAI" provides for communication imitating human interaction. 
"I think you lose a little bit of humanity using it," said junior Ari Banafsheha. "I think people find an easy outlet to pleasure now, like we already did, but now people are talking to [MyAI] and feeling in their conversations, and when they're bored, they might text it. For those reasons I think it's bad, but in theory, it can be very useful."
Additionally, the AI's technology is limited and often disregards student requests, which contradicts its purpose of being an accessible listening tool. 
"It takes away from what I'm trying to say," said junior Sammi Cloughsey. "Like I want a certain question from it, and it's not answering it exactly, or it will be like 'I'm only an AI  but blah blah blah.'" 
Despite criticisms, "MyAI" does seem to succeed in delivering information instantly. The Snapchat feature is just one of the many new additions to the Artificial Intelligence "revolution" that is re-shaping the way students learn. 
Donate to Calabasas Courier Online
Your donation will support the student journalists of Calabasas High School. Your contribution will allow us to purchase equipment and cover our annual website hosting costs.
About the Contributor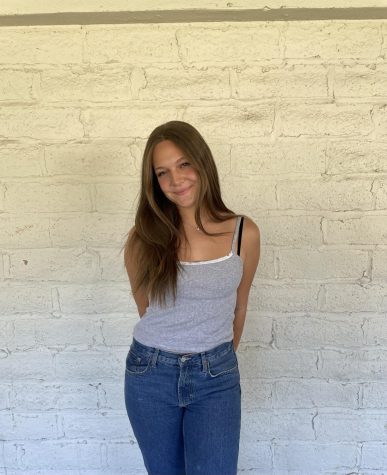 Devon Espar '23, Staff Writer
Hi everyone! My name is Devon Espar, and I am overjoyed to be a part of the Journalism staff. I am a sophomore and this is my first year in Journalism....