Morris Code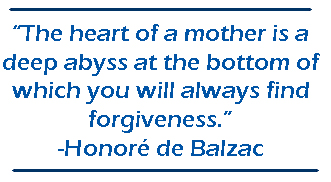 Hang on for a minute...we're trying to find some more stories you might like.
When the month of October first began, all I could think about were possible column themes. Whenever anything happened I envisioned myself writing a descriptive and hopefully funny narrative about it, but deep down something else stood out to me. There was this one topic that I knew I would have to write about for my first column; one that reaches past high school stories and funny realizations. It would be dedicated to the most important person in my life, my mom.
She has always been there for me, no matter what; my mom is truly an amazing woman. I have so many wonderful memories of us exploring at the zoo, jogging in the park and her dressing me up as a little train conductor when I was four. Especially with Halloween being tonight, I have vivid recollections of her making me the craziest Halloween costumes and all of my elementary school friends being overwhelmed with jealousy.
As I grow older and become more independent, my mom and I drift further and further apart. I have less time to spend with her, and in just a few short months I will be leaving for college (which will be in state) according to my mom. Of course the thought of not having her around saddens me, but I know that I will use everything she has taught me over the last 17 years to become a better person and to make smart choices. She has taught me an immense amount of morals that I will continue to live by even as I begin this new chapter in my life.
I'm excited to take on new challenges and meet new people from so many diverse backgrounds. I'm looking forward to meeting someone new that will have an immense impact on my life and who also will instill essential values in me. I am prepared for thisnew life experience and I would not be who I am today without her.
I will never forget the amazing experiences I have spent with my mom; especially the thousands of movies we have watched or the delicious dinners we have shared. My mom is my hero and all the work and time she has put into raising me has not been left unappreciated. •