The Art of Stew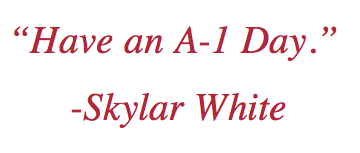 Hang on for a minute...we're trying to find some more stories you might like.
My biggest form of procrastination has come to an end. Breaking Bad is over. For some, the show was nothing more than a Sunday evening delight, but for me, "Breaking Bad" had me hooked from Walter's 52nd birthday. Throughout my time watching the show, I became overly attached to the characters, and I feel I must give them my proper goodbyes.
To Gus: I admired your composure until the end. While your murderous side did get the best of you at times, you were quite the businessman. In an attempt to keep your legacy alive, I've made you one of my cover photos on Facebook. How about a 'thank you' with some Los Pollos Hermanos chicken?
To Badger: Whether you were slinging some famous blue deals or helping Walter scare the Gray Matter out of Gretchen and Elliott, keep on being a doofus.
To Skylar: I am sorry to say that I still love Walter White. I know your relationship got pretty rough at the end, but I really hope that my feelings toward Walter don't affect our friendship.
To Hank: I wish you had gone easier on my pal Walter; nevertheless, I understand that you had a duty to your job and to your moral values. I will always remember you as the true fighter that you were!
To Jesse: Hey cutie! I'm not sure if you've been getting my emails, but I think you're my soul mate. I'm sure your babe status took a hit after you pretty much lost your mind; I'll bring you back to reality. I hated seeing you stuck in that cage, but I would've loved to have been stuck in there with you. -Love always, the future Mrs. Pinkman of America.
To Walter: I'll always be on your side. Despite your evil tendencies, I loved watching your successes and dreaded witnessing your downfall. You inspired me to get out of my comfort zone and make a conscious effort to live in the moment. Despite our different ideas of success, I respect your drive and perseverance as both a man who would do anything for his family and a man who takes pride in his work. Congratulations on breaking bad. •