Then and now: see how these high school alumni have excelled with their careers since their graduation
Hang on for a minute...we're trying to find some more stories you might like.
Lee Ben-Gal
Class of 2014
Growing up near the pacific coast, CHS alumna Lee Ben-Gal has always had a love for bohemian beach fashion. From the day she took off her graduation cap, Ben-Gal knew exactly what her future had in store for her.
Designing bikinis has been a dream of Ben-Gal's since her sophomore year. After going on a senior trip to Europe and seeing the different ethnic cultures, her love for fashion grew even larger. Her vacation also motivated her to begin traveling to many other places for inspiration. Soon, Ben-Gal noticed how different swimwear was in other countries and wanted to bring that same exotic style to America. 
While many people are inspired by famous fashion designers and brands, Ben-Gal chose to base her bikinis off of a more unique approach.
"Throughout my travels I was inspired by many of the different things I would see and the different styles each culture possessed," said Ben-Gal. 
Shortly after returning from her Europe trip, Ben-Gal began working diligently to create a line of swimwear. After months of hard work, she finally launched her swimwear line entitled "Bengal Bikinis." Since creating this innovative swimwear line, Bengal Bikinis has gained popular recognition and many customers, becoming more successful than Ben-Gal could have ever imagined.
After trying on tons of unflattering swimsuits, Ben-Gal was determined to make sure her brand of swimwear was not similar to the lackluster bikinis that only fit one body type. Subsequently, Ben-Gal designed her swimwear line to promote all body types using a distinctive neutral Parisian color palette. By creating exclusive designs, she formed a larger clientele and appealed to more people with different bodies.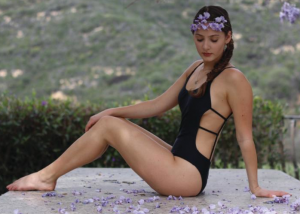 Since her swimwear line launched, Ben-Gal has gained amazing exposure at age 19 that some professional fashion designers never even experience. Ben-Gal has even been invited to New York Fashion Week, in addition to being featured in Condé Nast Traveller magazine's "Hot List" issue.
However, Ben-Gal's success has not come without challenges. She had once struggled to maintain production on her own and find the perfect pattern maker. However, Ben-Gal was able to overcome these obstacles and has learned a tremendous amount of information about the industry.
"Bengal Bikinis is definitely one of my biggest accomplishments thus far," said Ben-Gal. "The best thing I like about designing is seeing people wear and enjoy what I've made."
With over 30,000 followers on Instagram and tons of clients, time will tell what is in store for Bengal Bikinis. Ben-Gal plans on continuing designing bikinis, and she hopes to raise publicity to make her swimwear line become a brand known worldwide. Be sure to check out Ben-Gal's bikini line on Instagram at @bengalbikinis and online at bengalbikinis.com for the latest updates on new designs.
Written by Jill Punwar – Staff Writer
Sharon Siman-Tov
Class of 2009
Many students at CHS hope to achieve great accomplishments after they graduate and move on with their futures. CHS alumna Sharon Siman-Tov graduated in 2009 and worked diligently throughout college to achieve her dream job as a graphic designer that specializes in illustration design. She studied Technology, Art and Media at the University of Colorado, Boulder, which gave her a great deal of practice in many different aspects of graphic design. Throughout her experiences she developed a strong passion which has become her ideal career.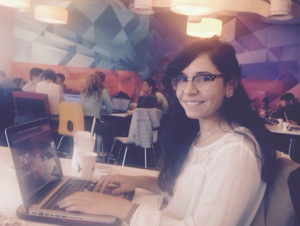 Siman-Tov was 12 years old when she first discovered her love for graphic design. She spent hours on Photoshop creating pictures and layout designs for her family and friends which lead her to decide to join yearbook when she entered high school. Siman-Tov decided to take yearbook because it was the perfect blend of everything she loved about graphic design and art. Shortly after, she chose to take her graphic design talents to the next level and study the field in college.
"The minute I got my hands on it, I was hooked. I would sit on the computer for hours designing things," said Siman-Tov.
Through her work, Siman-Tov easily finds inspiration in colors. She believes colors are fascinating because they can provoke emotion and offer endless artistic possibilities. Colors are found everywhere and in several varying forms. Even though some people believe nothing inspirational can come from such simple things, Siman-Tov has shown people otherwise through her designs.
"[Colors] allow you to feel something without necessarily doing anything. They come in no shape or form, they just are," said Siman-Tov.
Siman-Tov has found most of her work through college internships. Her past work experience has showed her that she is not a fan of straight and uncreative types of graphic design and has decided to lean toward the more creative side of her field. Throughout Siman-Tov's career, she has found her more artistic side and learned to push her limits while still learning new techniques and improving her skills each day.
Recently, Siman-Tov finished an internship in Israel working on an iPhone and Android application called Bazaart. Bazaart is a photo editor that allows its users to edit and create different type of collages and pictures and is available in the iTunes Store. Siman-Tov is also currently working on a website called www.Dreamme.com. On this website, people are able to follow their dreams with the help of graphic designers. Siman-Tov works to help create and develop the website in order to make people's dreams a reality. Each of these projects have been very beneficial to Siman-Tov's career and have taught her several new aspects of graphic design.
In the future, Siman-Tov hopes to continue her career as a graphic designer and has a strong drive that will surely help her to succeed. To view some of her work and upcoming projects, visitsharonsimantov.com.
Written by Madison Young – Staff Writer