Seniors Andrew Mishkin and Adam Meleo celebrate their final Y&G conference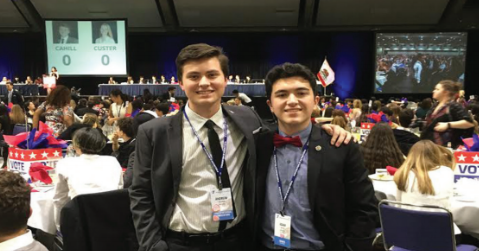 While there are many activities Calabasas High School students attend outside of school, one of the most common is the YMCA's Youth and Government program. Known by it's nickname "Y&G," the program allows high school students to operate in model governments at the local, state, national and international levels, involving participants in several different programs and conferences over the years. While the organization first started in 1936 in New York, it has now grown to operate in 38 states as well as Washington D.C., serving over 47,000 students across the country.
Seniors Adam Meleo and Andrew Mishkin are among the 4,000 students who participate in California's Y&G program. Both have been a part of Y&G for four years, starting as freshman who had major interests in politics and sought out the program as a chance to extrapolate that hobby. While Mishkin is passionate about turning politics into a career, Meleo is happy to continue pursuing politics as his hobby.
"I see it as an outlet." said Meleo. "We are understanding how government works while working with other people."
Youth and Government has changed Meleo's life in several ways and assisted him in building character politically and personally. Being a part of the group has helped him acquire numerous skills when it comes to understanding government broadly, but also in helping Meleo work on public speaking tactics and how to defend his viewpoints. Being in a pretty liberal program, Meleo, who is moderately conservative, feels that Y&G has inspired him to heavily research facts and build solid arguments in order to stand his ground.
"Youth and Government is an asset and everyone involved learns so much from it," said Meleo. "It shapes your life and teaches so much, not only at the meetings but at the conferences and running for positions."
Mishkin, who is currently the President of the West Valley Delegation, spoke on the numerous opportunities Y&G has given him. While Y&G  operates locally by holding meetings, there are also statewide and national conferences. While running for Youth Governor last year, Mishkin set up his own campaign to promote himself, and even though he did not win, Mishkin spoke about the experience with revere.
"I got to give a speech in front of 4,000 people." said Mishkin. "It is definitely one of my best memories."
Since Y&G is such a large program, many members find hard to stand out. Nonetheless, Mishkin feels like he has found his place within the community to share his political passions. Y&G has given him great experience to use later on in his life and career, and like Meleo, he feels it has also helped him learn to stand his ground in debates.
"Youth and Government is a lot of fun and I think it is valuable to stay in it for all four years [of high school] to have the full experience," said Mishkin.
Mishkin further recommends students who are looking into the Youth and Government program to go to the free meetings in order to get a sense of what the organization is about. For kids who love politics and want to get involved more in their community, Youth and Government is a great option to explore. Not only does the program set students up to be leaders in all senses of the word, but it allows students to connect through a common interest while building each other's confidence along the way.
Meleo and Mishkin have experienced that support firsthand. Both seniors recently attended their last Youth and Government conference: the 69th Model Legislature and Court conference that was held in the State Capitol. Throughout their four years of participation, Meleo and Mishkin have acquired an endless amount of attributes and experience through the program that positively affected their lives. Without Youth and Government, Meleo and Mishkin both agree they would not have interacted with politics as intimately as they have throughout the years and met so many people who have helped shape who they have become.