Voiceover actress Cassidy May Benullo reaches for the stars
Starting at age six, freshman Cassidy May Benullo has always had a passion for acting, singing and dancing. May Benullo's lifelong dream of becoming a television actress was achieved back in 2014, where she had the once in a lifetime opportunity to be featured as a voiceover actress for the character "Frieda" in the Peanuts television show. A year later in 2015, May Benullo landed another impressive voiceover gig for an animation show, Whisker Haven Tales with the Palace Pets, where she voiced the character "Truffles" in three of the episodes. May Benullo's most recent major projects were Olaf's Frozen Adventure (2017), alongside Netflix's Super Wings! (2018).
"Having the chance to undertake a role for Disney has definitely taught me that if you work hard, you can achieve your dreams," said May Benullo.
Throughout her childhood, May Benullo has performed in sixteen different local musicals, all of which have prepared her for hired jobs. Working with major production industries such as Disney and Netflix at such a young age is not something that many young actors get to do, and May Benullo says the experience has been life changing. She made the decision to pursue a professional voiceover career with her acting after reading the young adult book Sprinkles and Secrets, by Lisa Schroeder. The book inspired her to take the big step of accepting a professional offer from an agency that eventually changed her life. Being that May Benullo got involved in the film industry at such a young age, she struggled through some tough experiences and devoted a great deal of time attending auditions and castings. 
"For me, something I struggled most with was improv," said May Benullo. "We had to make up the lines on the spot and make sure they were not said in modern language."
May Benullo's convenient ritual trick that she went through before recording characters with accents is to learn from online videos of people with similar dialects. However, for characters that do not require an accent, May Benullo listens to the actors who have played the role before her. Luckily, most of the auditions and recordings that May Benullo took part in were located throughout the heart of Los Angeles, so she did not have to travel long distances for jobs.
As a working voice actress, May Benullo is continually auditioning for Disney shows and singing positions and is hoping she makes the cut. After graduating from high school, she hopes to pursue her lifelong dream and become a successful Broadway actress in New York. Although May Benullo is only a freshman, her determination to be a known name in the industry has already gotten her one step closer to success and fame.
Donate to Calabasas Courier Online
Your donation will support the student journalists of Calabasas High School. Your contribution will allow us to purchase equipment and cover our annual website hosting costs.
About the Contributor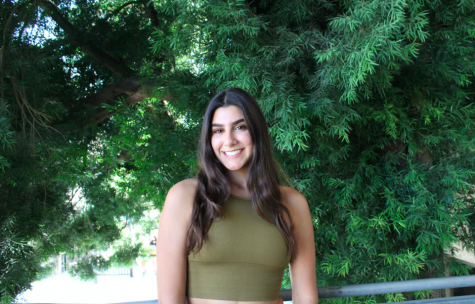 Mia Tiano, Executive Editor
Hi, I'm Mia Tiano and I am thrilled to be the Executive Editor of the Calabasas Courier this year. I have been writing for the Courier since my sophomore...