Seniors Daniel Schwartz and Harrison Wang are recognized for their academic achievement and considered for the Presidential Scholar Award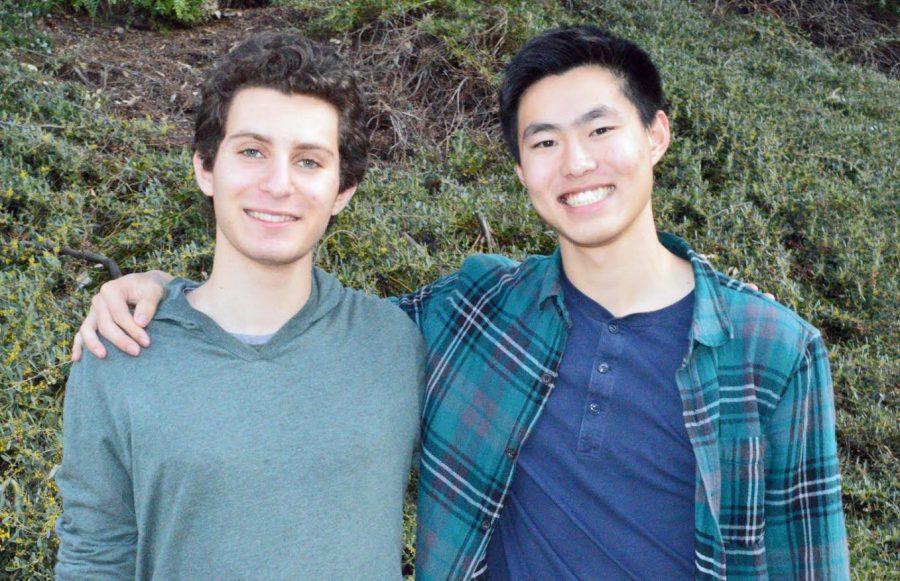 The Presidential Scholar award is one of the nation's highest honors for high school students. CHS is proud to recognize two students who have been nominated: seniors Daniel Schwartz and Harrison Wang. The United States Presidential Scholars Program is one of the many programs of the Department of Education that identifies outstanding high school seniors. First established in 1964 by executive orders of President Johnson, the program has since evolved to acknowledge all types of high school overachievers.
"I did not know the award existed until I got an email from the White House," said Schwartz. "I have been fortunate enough to have some really amazing teachers. A lot of what I have accomplished is because of them. To anyone worried about succeeding in high school, I would say, do not worry. There are much more important things in life than grades and test scores."
Each year, up to 161 Presidential Scholars are rewarded for their academic efforts along with accomplishments in other common areas such as leadership, service to school and community, performing arts and superb ability in career and technical fields. The specialized selection process begins with the top 30 males and top 30 females in each state who had high scores on the SAT or ACT. For each student, the SAT score is converted to the ACT sum of scores according to a concordance table, which serves to help place kids who took the ACT evenly with those who took the SAT. Even more, each Chief State School Officer may nominate ten male and ten female candidates, and other partnering programs may nominate up to 40 candidates. In March, 500 semifinalists are chosen by an independent national committee of educators. Finally, in April, the Commission of Presidential scholars makes the final selection of 121 students: one young man and woman from each state, the District of Columbia and the Commonwealth of Puerto Rico, from families of U.S. citizens living abroad and 15 students who are chosen at large. With this long and extensive selection process, consideration for the award is almost as great of an honor as being chosen. The CHS student body should feel immensely proud that two students have been nominated. 
"I am incredibly honored to be recognized as a candidate for this award and all that it stands for," said Wang. "It is still unbelievable for me to consider myself amongst the top high school seniors in the United States. I would have to say that I have looked up to my sister for my entire life, and without her I do not think I would be the same person I am today."
Once nominated for the award, there is a lengthy process that each candidate must undergo, similar to that of a college application. Each candidate must answer uniform questions and follow specific directions such as writing essays, sending in transcripts and listing extracurricular activities. All of the state winners are invited to Washington, D.C. around the month of June for the National Recognition Program. There, they will all attend a ceremony in which each winner is awarded a Presidential Scholars Medallion. If all goes as planned, one of CHS's highschool boys will be attending this ceremony and representing the Calabasas community.
"I am fortunate enough to say that I have tested well, but I do not want to be defined just by a number," said Wang. "I think everyone, myself included, has so much more to offer than just a score or grade. I especially hope that my best is still to come in the future."
While this illustrious accomplishment does not affect a student's entry into college because the awards are given after most application deadlines, the honorable recognition is still very impressive for high school seniors. Students and faculty are incredibly proud of Schwartz and Wang for not only being nominated for this award, but also partaking in all the academic, theatrical and business opportunities offered at Calabasas High School.
"Both of the students nominated for the Presidential Scholar awards are exemplary students in and out of the classroom," said CHS principal CJ Foss. "They have challenged themselves academically and participated in extracurricular activities, thus achieving the kind of healthy balance I want for all students. Thank you for recognizing their achievements."
Nominations have already been posted, and the National Recognition Program is scheduled for June 18-20, 2017. These dates are flexible, but will be solidified after the U.S. Presidential Scholars are announced. The Calabasas community will remain supportive of Schwartz and Wang, no matter the outcome of the award.