Junior Gabe Klorman inspires engineers with his blog: Klorman Creations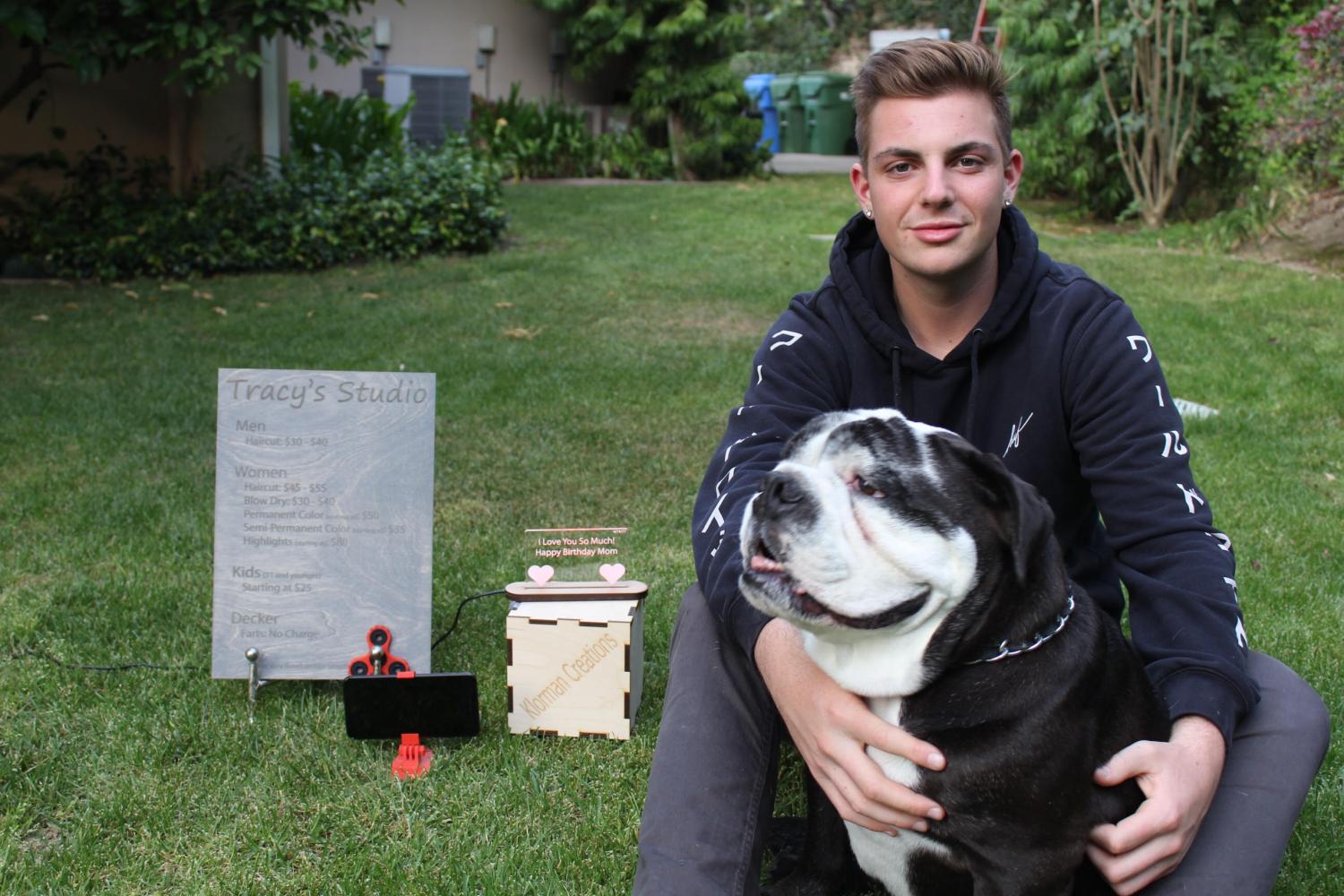 For anyone in a math class who has ever wondered how advanced math is applicable to real life, junior Gabe Klorman has the answer. Klorman is an aspiring businessman in the field of engineering. He is not quite sure what he wants to do when he is older, but he knows it will be something relating to STEM–science, technology, engineering and math.
"STEM defines progress in society," said Klorman. "In my opinion, it is the most important thing. Using engineering, you can solve any problem you encounter in your daily life. If something is broken in your house, you can use STEM to fix it. Math has a lot of real-world applications, regardless of common perception."
Currently, Klorman teaches two classes at Hexlab Makerspace in Chatsworth: one titled "Introduction to 3D Printing and Makerbot Machine Training" and another called "Intro to Laser Cutting and Machine Training." The classes typically attract middle-aged adults, but anyone is welcome. Klorman spends 10-12 hours per week at Hexlab, working with his mentor, thinking about new projects and prototyping ideas. At home, he updates his blog and does research. His website, Klorman Creations, was birthed out of a sense of fascination and anxious exclusion.
"For years I had been following lots of 'makers'—people who create stuff out of pure enjoyment—and watched them build things online," said Klorman. "Eventually, I got tired of watching other people. I wanted to create my own things, so I started Klorman Creations, a blog where I can display my successes and my failures. By showing my projects and what I have learned from them, I hope to entertain and help people."
Once he became a maker, Klorman discovered that the 3D printing community is close-knit and supportive. Rather than an environment where creators aim to flex their intelligence, the maker community consists of collaborative minds who respect Klorman's ideas, despite his age.
According to Klorman, his love of engineering was fostered at a young age by his father, an owner of a large construction company, and furthered by Dr. Christian, a professor at California State University, Northridge (CSUN) for whom Klorman served as an intern. With Dr. Christian, Klorman conducted research and calculations in the lab and observed planets and stars in the CSUN observatory. Besides his father, he cites his inspirations as Bill Nye, Neil deGrasse Tyson and Adam Savage, while listing Jimmy Diresta and Simone Giertz as his favorite makers.
While in the future Klorman hopes to expand to more fields of making, such as woodworking and programming, he generally works within the boundaries of laser cutting and 3D printing. While some of his other creations include a marquee and a sign for his mother's hair salon, his favorite project so far is a bike he created called Pedal Power. By taking an ordinary bicycle and converting the kinetic energy from pedaling the bike into electrical energy, Klorman found a way to charge any USB device just by riding a bike. By providing riders the luxury of battery power, the idea could potentially help reduce traffic and pollution by encouraging people to commute via bicycle. While creating is one of his greatest joys, Klorman's overarching mission is to popularize the STEM subjects and urge more students to involve themselves in classes such as robotics.
"In Calabasas, a lot of people focus on the arts or on business," said Klorman. "Because I think STEM is so important, teaching classes and updating my blog is my way of encouraging others to participate and exposing the joys of STEM to as many people as possible."
While he is aware that engineering does not appeal to everyone, Klorman completely rejects the stigma that STEM is "nerdy" or "boring." He believes this stereotype to be wildly inaccurate and harmful to aspiring mathematicians and scientists.
"If someone were to step into the field and look at the people associated with it, he or she would see a field filled with really cool, like-minded people who enjoy solving problems and expanding human potential," said Klorman. "No one should ever let anyone else discredit their passions."
Klorman looks forward to furthering his engineering knowledge at the Johns Hopkins Engineering Innovation program this summer. He plans to continue building Klorman Creations, whose Instagram account (@klorman.creations) already boasts over 1,100 followers. His gleaming fascination in engineering is evident in his progress and in the way he talks about STEM. Klorman's unwavering passion proves that there is no doubt he will succeed in whatever he chooses to do.
"There is no end to engineering," said Klorman. "It's constantly expanding and pushing the limits of human knowledge and progress."