Check it out: Sweet Hollywood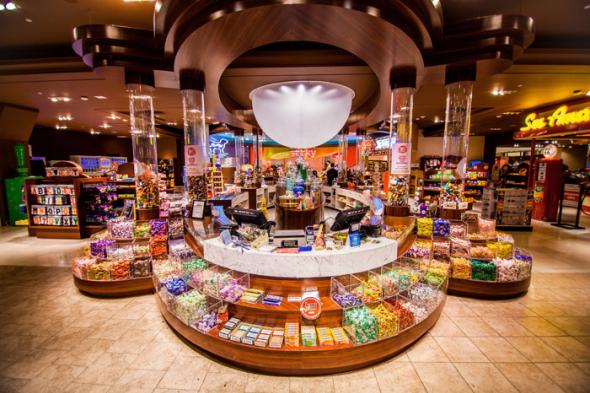 I walked through the door and felt as though I had entered Willy Wonka's Chocolate Factory.  I was immediately mesmerized by my surroundings in Sweet.  The sugary smell wafting throughout the shop delighted my senses, and the seemingly infinite amount of candy overwhelmed me.  I could feel my eyes moving rapidly, attempting to see everything at once.  There was candy as far as my eyes could see, and it pulled me in every direction.  Each of the 12 candy boutiques that make up the shop was fighting for my attention.
My first stop was the Chocolate Lab.  Here I received the opportunity to make my very own chocolate bar.  With a selection of 30 ingredients, I began to create my masterpiece.  First, I chose my type of chocolate and three sweet additions.  I then watched my idea transform into a reality.  I saw a mold of creamy dark chocolate filled with blood-red cherries and plump blueberries get dusted with just the right amount of sea salt.  When finished, the treat was taken away to cool and formed into a solid bar of perfection.
Once my candy was ready, I made my way over to the Sticky boutique to view magnificent statues of the stickiest and gooiest edible substances on Earth.  I watched a live taffy-making show and paid close attention as the taffy makers stretched the colorful mounds of flexible candy.  I could not believe my eyes when I saw them turn piles of sugar into multicolored lips, stars and Christmas tree-shaped lollipops.
Next I traveled to a place all children want to visit: Willy Wonka's Inventing Room.  Packed with the strangest delicacies ever created, this inventing room offers treats of shooting stars, peanut butter and jam-filled chocolate bars and rainbow-colored hard candies.  Decorated with dark-colored curtains containing numerous stars, the little boutique gave off an inviting vibe.
After visiting the home of the oompah loompas, I ventured on a candy-themed trip around the world at the Peace of Candy boutique.  With a three-dimensional globe accompanied by treats from all around the work (including chocolate-coated pineapple from Hawaii and licorice from Australia), strolling through this area of the shop made me feel as though I just took an international vacation.
Having tried the crème-de-la-crème of desserts from all corners of the Earth, I decided to be adventurous and cautiously entered Yucky, the candy boutique of the most grotesque treats ever made.  With sugary snacks such as ant-filled suckers and zombie brain-flavored sodas, I did not know how to react when consuming these interesting treats.
I then traversed over to Tinseltown, a boutique in which the history of Hollywood is displayed in the form of delicious desserts.  My favorite part about the visit to Tinseltown was viewing the picture consisting of jellybeans that came together to form the face of Eminem.  I loved visiting Sweet and I cannot wait to go back!
6801 Hollywood Blvd. Ste 201 Los Angeles, CA 90028