The importance of self-care during 2020
The pandemic and social unrest of 2020 means practicing self-care is more of a priority than ever. Staying motivated is easier said than done, and creating a daily routine can quickly provide a sense of balance during this current setback. 
According to Kathleen O'Connell, LVUSD Community 360 Counselor, self-care isn't always about taking time to do nothing. Many times, self-care means making a list of fast and easy tasks and crossing them off throughout the day. This creates a grounding, increasing a feeling of productivity and preparing the brain for upcoming days.
"Self-care has a very blurry line where we can slip easily over into self indulgence, where we're watching seven Netflix episodes and our homework is not getting done, and our brain is telling us that we deserve it, but it's actually creating barriers for us," said O'Connell. 
Along with mental wellness, self-care can also mean taking care of the physical aspect. Putting aside time in the morning to perform a light facial massage can aid in blood flow regulation, lymphatic drainage and increased circulation, according to healthline.com in a 2019 article. Stretching the body in the morning increases the circulation of blood into the muscles, keeping the body from stiffening throughout the day.
"I think self-care is important for teenagers especially because it's allowing you, as a teenager and a blooming adult, to begin creating a really balanced relationship with what self-care means," said O'Connell.
In this new paradigm of working from home, there is more time to set aside for enjoyable activities. Whether exercising, reading, watching television or spending time outside, finding a daily interest that brings pleasure is important for mental wellness. Exercising is a great way to spend free time, as it releases endorphins and dopamine, creating an overall pleasant feeling for the rest of the day, according to healthline.com. Not only does exercising and consuming the right nutrients benefit the mind and body, but it also factors in a healthy lifestyle.
Continually listening to the media is often a negative reminder of the current crisis and can easily cause negative distractions. It is important not to internalize the media and feed the brain with the same negative messages, according to mcleanhospital.org. Being informed and educated is entirely different than paranoia and obsession. Even removing little reminders such as Twitter notifications is a first step to eliminate apprehensive thoughts. 
"Self-care is also self-advocacy, it's setting boundaries, it's prioritizing and protecting our time so that we can stay on top of our responsibilities and not feel bad after the fact," said O'Connell.
For some students, getting out of bed every morning may be a challenge in itself. This is what O'Connell refers to as "having trouble getting motivated to get motivated." Therefore, Community 360 has created another support system in addition to CHS site-counselors, where students can book a thirty minute check-in with the Community 360 counselors over Zoom. For more information on booking a session, visit the Community 360 Counseling Center website. 
"A lot of people are feeling defeated right now, a lot of kids are struggling with motivation just to go through another day in this weird world," said O'Connell. "I think above and beyond connecting with friends, connect also with the adults who you know are there to support you because we are going through it too. If we know anything, it's that we need to be able to advocate for our needs, even if we can't identify exactly what our needs are right now."
Creating a positive environment, mindset and lifestyle is key to staying on track and being productive, especially during these unprecedented times.
Donate to Calabasas Courier Online
Your donation will support the student journalists of Calabasas High School. Your contribution will allow us to purchase equipment and cover our annual website hosting costs.
About the Contributors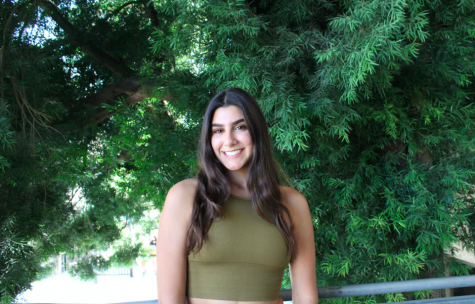 Mia Tiano, Executive Editor
Hi, I'm Mia Tiano and I am thrilled to be the Executive Editor of the Calabasas Courier this year. I have been writing for the Courier since my sophomore...