Baking guide for the holidays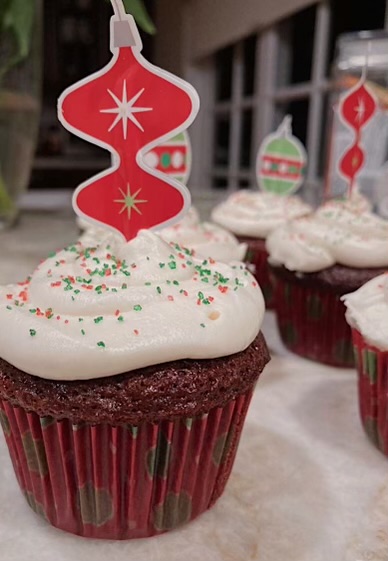 The holidays are a time for loved ones to come together and celebrate. One way I find myself making the most out of my winter break is baking for my family and friends. As a hobby, and a chance to brighten someone's day, baking has always been  a way for me to show appreciation.  My first holiday staple is something that can be eaten year round, but can also have an added holiday twist. A gluten free red velvet cupcake is a delightful treat made by swapping all-purpose flour for gluten free flour. The buttermilk, white vinegar and red food colouring add to a basic gluten free chocolate cake, and is sure to impress. 
Next is a favorite to my friends and neighbors; a fruity biscotti cookie. A more festive treat, this biscuit mimics a fruitcake, containing fresh additions such as cranberry, apricot, raisin and orange. A sticky dough is created by mixing flour, baking powder, eggs, sugar, butter, vanilla, and orange zest. Shape the dough into wide ovals, cover in cinnamon sugar, then bake three times: first as a loaf, then slicing and baking on each side. Paired with a cup of coffee or tea, my biscotti cookie is simple yet impressive.
There is no dessert easier to make than pretzel turtles. A more recent tradition of mine, these bite-size delights are quick and unchallenging for novice bakers who are in need of a quick recipe. Purchase a bag of square grid pretzels and place an unwrapped Rolo on top. Bake for 4 minutes and quickly place a pecan in the gooey center and refrigerate. Ready in under five minutes, this is a yummy gift anyone would appreciate.