Editors' Pick: Best Albums of 2021
Music is something everyone listens to. Especially with Tik Tok giving underground artists a chance to rise above and instantly go viral, the music industry has expanded more than ever before. Below, the Courier editors put together a list of their favorite albums of the year. 
"Sling" by Clairo
"The amount of times I've listened to 'Sling' is honestly embarrassing. It oozes an understated elegance, pulling together flourishing harmonies and muted horns to create an exceptionally pretty sound. As the cover art evokes, listening to this album feels like an evening spent in a sleepy winter cabin, languidly sipping on chamomile tea. It's just so pleasant and dreamy. By far my favorite album of the year."
 – Sophie Dodd, Life & Arts Editor
"Red (Taylor's Version)" by Taylor Swift
"'Red (Taylor's Version)' truly brings the perfect amount of nostalgia and satisfaction that comes with listening to Swift's songs, knowing that she actually owns them. 'All Too Well (10 Minute Version)' is nothing short of a masterpiece. It takes you on a rollercoaster of emotions, making one feel as if they are actually in Swift's position. The previously unreleased song entitled 'Nothing New,' featuring Phoebe Bridgers is an ode to the terrifying feeling that comes with growing up. Each and every song tells their own story and gives everyone an opportunity to relate to something on the album." 
– Halston Espar, Managing & News Editor
"DONDA" by Kanye West 
"Kanye West has easily become one of the most influential artists of our generation; from collabs with Kid Cudi, to having several of his songs featured in the Gossip Girl series, West's music is timeless. He had been teasing at 'DONDA' for several months leading up to the release, and after many delays, the revolutionary album did not disappoint. With 32 total tracks on the album, 'DONDA' was more than just a new album- it also held lots of meaning behind it. Throughout his songs, West alludes to his mother, religion and future hopes for his children. Although it is categorized as Hip-Hop/Rap, West mixes in some gospel as well. The album also includes features from some of the most famous artists of our time, making it even more iconic: Lil Baby, Lil Durk, Lil Yachty, Roddy Ricch, Young Thug, Jay Electronica, Travis Scott, The LOX, Kid Cudi, Fivio Foreign, Westside Gunn, Conway The Machine, Playboi Carti, JAY-Z, Shenseea, DaBaby, the late Pop Smoke, and André 3000." 
– Mia Tiano, Executive Editor
"Mother" by Cleo Sol  
"This album truly warms my heart. It will make you feel important and instills its listeners with a newfound love and appreciation for life. From the love of a mother to a daughter, this album is full of unconditional love and talent. When I listen to this album I can fully appreciate songwriting and it is the perfect album for any mood. Don't be afraid to sing your heart out in your car to this album!" 
– Shylee Simon, Perspectives Editor
"I Know I'm Funny haha" by Faye Webster
"'I know I'm funny haha' is unironically funny. Indie and folk music are two of my favorite genres, both of which Webster masterfully combines in this release. This album embodies a plethora of emotions; laughter, crying, loneliness. Webster knows how to find humor in vulnerable, melancholy ways."
–Sophia Schall, Creative Director 
"Call Me If You Get Lost" by Tyler, the Creator
"Before this album was released, I thought there was no way it could top Tyler's previous album 'IGOR.' After giving it a listen, I was definitely wrong. All 13 songs embody a perfect variety as each song has its own unique style and story line. The incorporation of DJ drama and the theme of travel made this album stand out from his prior work. There's no surprise that this was my top album of the year."
–Jordyn Feenberg, Digital Editor
"The Melodic Blue" by Baby Keem
"When the song 'Family Ties' by Baby Keem released on August 27th it was an instant hit and made everyone aware of Baby Keem. Less than a month later Keem released 'The Melodic Blue' and changed everything. This album truly has everything from the first track Trademark USA, which has a fast moving beat and hard language to the song 16 which is slower and has more of a romantic vibe to it. This album really has something for everyone."
–Justin Naidrich and Matthew Shapiro, Sports Editors 
"Fearless (Taylors Version)" by Taylor Swift
"I literally could not stop listening to this album when it first came out. All of the songs bring back so much nostalgia and are such good songs to belt out, especially in the car. Swift's songs are so powerful and really evoke a lot of emotion."  
–Abbie Goldstein, Campus Editor
"SOUR"
by Olivia Rodrigo 
"Although this album was certainly mainstream, it lived up to every bit of its hype. For over a month after its release, I sang (quite terribly) along with the blasting melodies of someone else's heartbreak, amusing myself during late night traffic jams and letting go of my own emotions.  Rodrigo's lyrics represent the perfect opportunity to really know a song by heart and feel the power of joining in harmony, whether by yourself or with those you love."
–Lillia Koepke, Assistant Campus Editor
Donate to Calabasas Courier Online
Your donation will support the student journalists of Calabasas High School. Your contribution will allow us to purchase equipment and cover our annual website hosting costs.
About the Photographer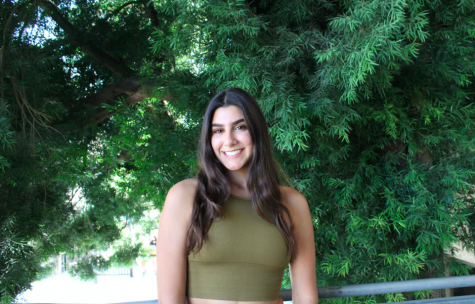 Mia Tiano, Executive Editor
Hi, I'm Mia Tiano and I am thrilled to be the Executive Editor of the Calabasas Courier this year. I have been writing for the Courier since my sophomore...