Don't Worry Darling: Writer's review
One of the most anticipated movies of the month, Don't Worry Darling, released Sept. 23. A psychological thriller set in the 1950s, Don't Worry Darling pictures a housewife and her husband living in a utopian community that hides disturbing secrets. This movie strikes big with elegant costumes and set designs, as well as stellar performances and plot twists that keep viewers on the edge of their seats. 
Despite rumored controversy amongst cast members behind the scenes, this movie lives up to expectations in terms of suspense and psychological intrigue. Fans of Midsommar, Fresh, Knives Out, American Psycho and Black Swan should mark Don't Worry Darling onto their must-watch list!
The cast's dedication to their work is clearly shown on-screen. Florence Pugh, playing the lead role of Alice, does an outstanding job, evoking emotion so astounding viewers will forget they are merely watching a movie. If there were troubles between cast members, it is unnoticeable in Pugh's performance, as she is extremely professional. 
As for Harry Styles, it is quite clear that acting is not his primary profession. However, he is able to maintain the quality of deception essential to his character because of the charm he conveys on-screen.
Kiki Layne's scenes as Margaret were cut from the final version of the film for unknown reasons. Because of this and because Margaret's character is instrumental in the uncovering of plot twists, her story feels unfinished. However, Layne holds no ill will.
"The best thing about [Don't Worry Darling] is that I was lucky enough to meet Ariel Stachel," said Layne on Instagram, according to Effingham Radio. "[The producers] cut us from most of the movie, but [Stachel and I are] thriving in real life." 
Nick Kroll, in his role as Bill, is absolutely hilarious for fans to watch. However, his humor may have partially stemmed from expectations of hilarity due to his career as a comedian rather than his performance. 
With all the A-list cast members contributing to Don't Worry Darling, there is not a scene in the movie that is not outstanding. Each character has such a story to unfold, leaving fans either rooting for them to succeed or waiting for tragedy to befall them. 
Despite excellent performances, Don't Worry Darling does leave the audience with several unresolved situations that should have been addressed before the movie's end. For instance, what is the significance behind the plane? 
There are also many missed opportunities throughout the film. Near the end, there is a perfect moment for main character Jack Chambers to say the line, "Don't worry darling," to tie the picture together. The legendary rhyme utilized throughout the film should have been performed in its entirety during the end credits as well, and taking advantage of Styles' musical talent to perform the song seems like an obvious omission.
Nonetheless, the cinematography is both aesthetically pleasing and filled with emotion, emphasizing the significance of each moment. With enchanting sets, the 1950s setting is extremely believable. Considering conflict on and off the screen, there is not a moment to be missed! 
Donate to Calabasas Courier Online
Your donation will support the student journalists of Calabasas High School. Your contribution will allow us to purchase equipment and cover our annual website hosting costs.
About the Contributor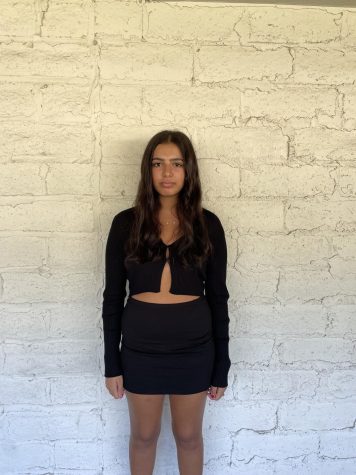 Kylee Barnaj '23, Staff Writer
I'm Kylee Barnaj! This is my first year on the Journalism team. I have a huge passion for writing, which I mostly write with no intention of anyone ever...