Midnights lives up to expectations: Writer's review
Taylor Swift, a mastermind in the music industry, debuted her new album, Midnights, at exactly midnight on Oct. 21, momentarily shutting down Spotify due to a barrage of "swifties" craving her first album release since Evermore in 2020.
In its first day, Midnights became Spotify's most-streamed album in a single day and launched Swift to Spotify's most-streamed artist in a single day. Swift's collaboration with Lana Del Rey in one song on the album, "Snow on the Beach," also earned the biggest debut for a female collaboration ever. 
The Courier ranks Swift's new songs below, all of which live up to the hype. 
"You're On Your Own, Kid" is a personal favorite, touching on the reality and hardship of change. This song is the perfect mellow tune to play while doing homework or on late night car rides. 
For fans of Swift's past songs "Afterglow" and "This is me trying," "Labyrinth" is a must-play. In a mesmerizing mixture of previous albums Folklore and Lover, Swift describes the journey of falling in love.
Standing out from the rest of the album, this song is reminiscent of Swift's Reputation album. The lyrics are very catchy and bound to be stuck in listeners' heads for hours. It fits perfectly into a powerful women playlist as a hype song to listen to before going out. 
This song is for all the Anakin Skywalker, Wanda Maximoff and Loki Laufeyson lovers; filled with relatable lyrics for the misunderstood who keep their problems inside, Swift's words bring a sense of understanding and purpose. In one particularly powerful lyric, Swift sings, "I should not be left to my own devices. They come with prices and vices, I end up in crisis."   
The chorus of "Maroon" is truly exemplary, inviting speculation about Swift's own romantic past while offering a relatable experience. 
"Sweet Nothing" gives off the vibe of just staring at the ceiling in euphoria at 3 a.m. Inexpressibly unique compared to most every other song, "Sweet Nothing" demonstrates that only Swift has the musical experience to come up with such a song. 
Despite major hype around the Swift-Del Rey collaboration, Del Rey is disappointingly only featured on vocal backgrounds. Nonetheless, this song is bewitching. 
Among other speculated meanings, many fans believe "Karma" was inspired by Kanye West. At the 2009 MTV Video Music Awards, West stole the microphone during Swift's acceptance speech for the best female video award, initiating a feud between the two. No matter who this song is about, after Swift wrote reputation in the name of revenge, the release of "Karma" shows Swift has more to say. 
If Swift's "Mirrorball" and "This is me trying" had a baby in the 1970s, it would be "Mastermind." In a majestic musical way, this song relates to people who worked hard for all they have accomplished and received no handouts. 
For all 1989 album lovers, "Lavender Haze" has a similar upbeat rhythm. Like other songs in the album, this one alludes to relationships in Swift's own life, potentially inspired by near proposals from both actors Tom Hiddleston and Taylor Lautner. Swift sings, "All they keep asking me, is if I'm gonna be your bride. The only kinda girl they see is a one night stand or a wife."  
Similar to "The Archer," this song is a good listen for fans who yearn to feel understood. 
The introduction of this song is euphoric, especially through headphones, matching the vibe of 1989. This song should be played when surrounded by friends and is perfect to scream along to together. 
Although this song may be originally off-putting due to the distorted voice used throughout, after listening multiple times, "Midnight Rain" grows on the listener. The lyrics hit deep, telling the tale of a girl who has priorities other than her boyfriend. The distorted voice represents a man chanting the differences between the couple.
Donate to Calabasas Courier Online
Your donation will support the student journalists of Calabasas High School. Your contribution will allow us to purchase equipment and cover our annual website hosting costs.
About the Contributor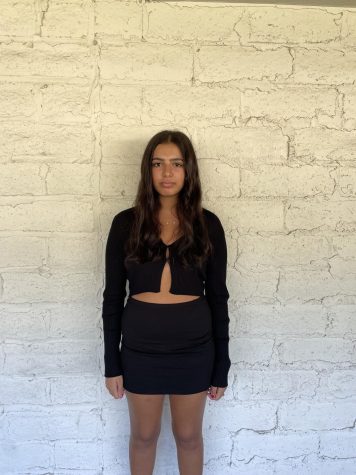 Kylee Barnaj '23, Staff Writer
I'm Kylee Barnaj! This is my first year on the Journalism team. I have a huge passion for writing, which I mostly write with no intention of anyone ever...