Editor's Pick: Best Albums of 2022
The time has come! As 2022 winds to a close, the editors of the Courier share their favorite albums from this year.
"Summertime Blues" by Zach Bryan
"Summertime Blues" has officially taken a piece of my heart. My internal love for country music began to shine through after listening to this album. Zach Bryan has a way of touching the hearts of his fans through his music, releasing songs that are unique and compelling and capture the moment when you feel most alive. The combination of pieces that are more slow and somber with those that are intense and joyful is only one of the reasons that "Summertime Blues" is my favorite album released this year.
– Riley Krane, Life and Arts Editor
"Ice, Death, Planets, Lungs, Mushrooms and Lava" by King Gizzard and the Lizard Wizard
"Ice, Death, Planets, Lungs, Mushrooms and Lava" offers an entertaining experience for any listener. With a wide range of incorporated sounds, the album exemplifies the experimental side of alternative music. By combining jazz and rock, it further adds to King Gizzard and the Lizard Wizard's uniquely creative sound. My personal favorites include "Iron Lung," "Ice V" and "Gliese 710."
– Sedona Kaye, Perspectives Editor
"TM" by BROCKHAMPTON
The album "TM" has been on repeat since it came out in April. After Coachella 2022, BROCKHAMPTON announced that they would be making a final album and would indefinitely break up. Recently, the band released not one, but two new albums as their final goodbye to their collective fans. The band has never let their fans down by consistently releasing upbeat, loud and exciting songs. In the first album, "The Family", fans were disappointed when hearing that only Kevin Abstract was highlighted in the songs, but in "™", more of the members were heard, including Dom McLennon and Matt Champion.
– True Fisher-Duddy, News Editor
"five seconds flat" by Lizzy McAlpine
"five seconds flat" is a beautifully crafted album. While it steers from McAlpine's usual soft acoustic sound, the album does not fall short of her ability to describe seemingly indescribable emotions through her intricate lyricism, which creates a ghostly atmosphere throughout each track. From strong, bitter songs like "firearm" to songs like "ceilings" that invoke a longing feeling, this album explores every aspect of heartbreak, telling a personal story that resonates with listeners. 
– Isabelle Demian, Assistant News Editor
"From 2 to 3" by Peach Pit
Despite a slight departure from Peach Pit's older rock style, "From 2 to 3" offers the same opportunity to sing along. The band does not disappoint with its unique lyrics and genuine instrumentals, creating songs that are both cohesive and meaningful. The album has a lighthearted feel and is the perfect listen for a summertime drive with the windows down. My favorites are "Look Out!," "Up Granville" and "Vickie."
– Lillia Koepke, Executive Editor
"SOS" by SZA
"SOS" is an album about heartbreak, insecurity and finding self-love, all conveyed through SZA'a raw and confident vocals. Each song is super catchy, especially the contrasts between SZA's soothing voice and the vengeful lyrics on songs like "Kill Bill." Aside from that, what's cool about the album is that a lot of the songs blew up before "SOS" was released, so the rest of the album was highly anticipated and did not disappoint!
– Bella Epperson, Campus Editor
"Mr. Morale & the Big Steppers" by Kendrick Lamar
After a five-year hiatus, Kendrick Lamar released "Mr. Morale & the Big Steppers," and it did not disappoint. The lengthy album covers a wide variety of personal conflicts Lamar has struggled with throughout his life, inducing multitudes of emotions from listeners. My favorite off the album is "Father Time."
– Adam Swarth, Assistant Campus Editor
"Midnights" by Taylor Swift
The "Midnights" album to me was a combination of all Swift's albums, using lines and melodies that are recognizable from her past songs. To me, this made the album very enjoyable. My two favorite songs from "Midnights" are "Maroon" and "Snow on the Beach" ft. Lana Del Ray. I find that the whole album has this unique rhythm and overall vibe that is different from some of her other albums.
– Hannah Sarnoff, Sports Editor
"Infinite Dream" by Bazzi
This album is so fun to listen to and is so catchy! I feel like this album is a good way to get your mind off of your stress and is definitely a feel-good album. I love its ability to produce happy music and make my day brighter and more positive. My personal favorite song is "Little Miss Sunshine," especially when I get to sing along to it when driving.
– Gaby Goldberg, Social Media Director
"Dawn FM" by The Weekend
"Dawn FM" is a perfect album to listen to at any time of the day. Whether I am getting ready for school or doing homework at night, the variety of different songs and beats make the album perfect! The songs in the album are upbeat and lifting, perfect for whenever I want to drive around with my friends and listen to music. One song in particular that I listen to on repeat is "Less Than Zero."
– Sofie Kocar, Multimedia Director
"Autofiction" by Suede
Bands this old aren't supposed to be this good. It's hard to believe that Suede (known as "The London Suede" stateside), thirty years in, could deliver such a passionate, stripped-down knockout of an album. Lead single "She Still Leads Me On," sees Suede embody the best of their glam and post-punk influences, cutting yet beautiful. Meanwhile, "The Only Way I Can Love You" resonates with an elegance that has long been a Suede hallmark. If you don't know the band, this album is a perfect start.
– Ian Godburn, Advisor
Donate to Calabasas Courier Online
Your donation will support the student journalists of Calabasas High School. Your contribution will allow us to purchase equipment and cover our annual website hosting costs.
About the Photographer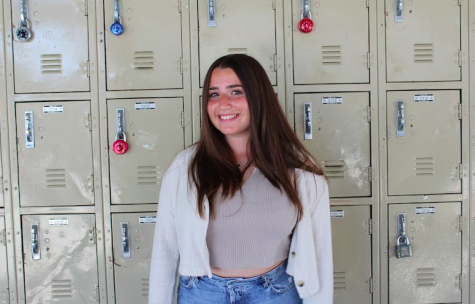 Riley Krane, Staff Writer
Hi! My name is Riley and I am so excited to be a staff writer this year at CHS! I am currently a junior and discovered my passion for writing at this school....