CHS a cappella groups head to Carnegie Hall
Hang on for a minute...we're trying to find some more stories you might like.
On March 29, the members of CHS a cappella groups Bare Rhythm and Unstrumental will perform on stage at Carnegie Hall in New York City. Carnegie Hall hosts 200 concerts each year in its 3,671-seat theater, and this year, Bare Rhythm and Unstrumental will join several hand-picked teams for the Total Vocal showcase presented by Distinguished Concerts Singers International New York (DCINY).
The show is organized by the so-called "Godfather" of a cappella, Deke Sharon. Sharon is the writer, arranger and producer for the TV show "The Sing Off" and for both of the Pitch Perfect movies. Several of the carefully selected performers for Total Vocal were chosen by Sharon himself. Sixteen groups hailing from around the world will attend the event. Total Vocal's aim is to highlight the increasingly popular contemporary a cappella genre. The music of the night is based around arrangements of the 2012 hit movie, "Pitch Perfect," which helped introduce the style to a broader audience.
To prepare for the trip to NYC, the CHS groups have been practicing four times a week, twice after school and twice during lunch.
"We're all so happy to go to New York together," said senior Ali Hepps, the director of Unstrumental. "We just want to perform our best and live in the moment, because this truly is a once in a lifetime experience."
After submitting an audition tape to DCINY, Bare Rhythm earned a rare chance to sing a group solo of "Hallelujah," a Deke Sharon arrangement of the classic Leonard Cohen song.
In addition to the group performances, several Unstrumental and Bare Rhythm members will perform solos at Total Vocal. Junior Asher Gevisser is ready to show his talent singing solo in the song, "I've Got the Music in Me," by Kiki Dee.
"I think that performing at Carnegie Hall will be just such an enriching experience that I'll remember for my entire life," said Gevisser. "I hope to acquire a better understanding and appreciation for a capella music. There's no better way to do that when you're surrounded by the best of the best in the field."
Junior Katie Kaiser, the director of Bare Rhythm, has long awaited the trip to NYC and hopes to thrill the audience at Total Vocal. Assistant director junior Cassi Cardoza will perform a solo as well in Carnegie Hall and has worked diligently to prepare her part for the huge night.
"I accomplished my goal, which was just getting a solo," said Kaiser. "I'm just going to seize the moment on the Carnegie Hall stage because that is an accomplishment in itself."
While this experience is overwhelming for the group members, choir and band director Joshua Barroll is just as eager attend Total Vocal. He has not taken a group to Carnegie Hall in ten years, and Barroll fully recognizes the significance of performing in such a historic theater.
"When you think of all the great artists who have performed on that stage, it's surreal to think that our students will be up there in the exact same place," Barroll said. "It's a huge honor. For most of these students, this will be the only opportunity they ever have to perform in this type of venue."
After much practice and patience, Bare Rhythm and Unstrumental are anxious to express their unique style of music. Each member hopes to bring his or her special tone to Carnegie Hall this month to create a harmonious memory. Both groups aim to gain a higher understanding for music and to add their own sound to the up and coming genre of contemporary a cappella. Representing CHS and proving their capabilities both individually and in unison is the intended goal.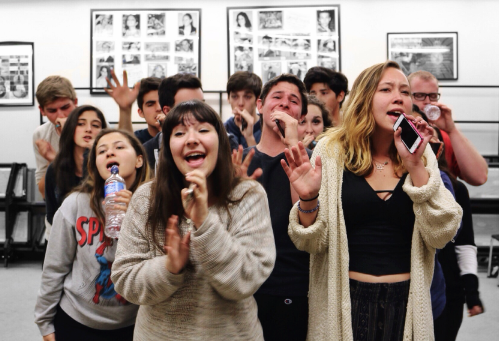 Photo by Dan Siman-Tov – Photographer