CHS hosts cultural exchange program with Chinese students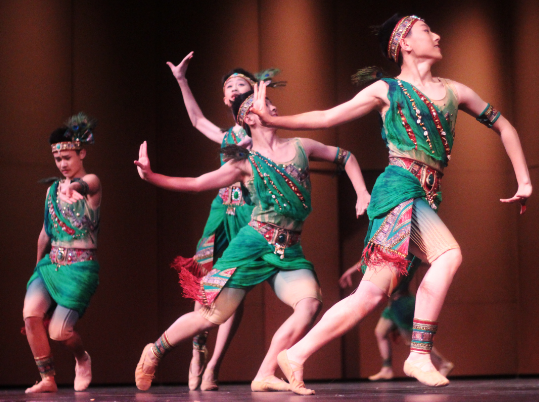 On Feb. 4, 2016, students from the High School Affiliated to Renmin University of China, or RDFZ, from Beijing performed at CHS. The professionally-trained students performed a medley of different acts, including acrobatics, martial arts, dance and music. They displayed their talents alongside CHS Music's a cappella groups Bare Rhythm and Unstramental, as well as Vivace, Maestoso, Wind Ensemble, Jazz Band, Orchestra and the CHS Cheer Team. The entire event, which began at 7:30 p.m., lasted two hours and was dedicated to the blending of cultures and inter-
national friendships.
CHS was initially approached for hosting this event by the same program that organized CHS's music program's trip to China over the past summer, Wrightway International and Sun-Wright Organization. Over the summer, the music program performed in five major Chinese cities over the course of two weeks; thus, Thursday's event was a symbol of reciprocity by which the relationship between CHS Music and Chinese students could come full circle.
While the RDFZ students were very excited to be performing in the United States to a primarily American audience, students Wumo Zi and Wuchen Yi Yu, who performed in the orchestral portion of the event, were most eager about forming friendships with their American counterparts and forging international
bonds.
"We are so excited to meet many students," said Zi. "[CHS] is a very excellent school with excellent artistic aptitude, and [CHS] is welcome to our school anytime."
RDFZ Principal Liu Xiao Hui likewise expressed a similar sentiment, commenting on how she felt that the most valuable part of the whole performance was the potential for student interaction between schools.
"We are very excited because kids can broaden horizons," said Hui. "I sincerely hope we two schools can have a very close relationship in the future."
The opportunity to see firsthand the professionalism and technique of students from other cultures left a lasting and memorable impression on CHS students as well. But not only were CHS students amazed by the talent of their visiting Chinese counterparts, but were grateful for the opportunity to meet new people.
"It was really fun and really nice to see what the music program in other countries was like," said junior Chloe Beddows. "It was also fun talking to and meeting new people. we even exchanged WeChats [a social media platform popular in China]."
The multicultural event by which CHS and RDFZ came together to perform was a time of great excitement and an opportunity to meet others. The two schools hope to maintain a friendly relationship and perhaps meet once again sometime in the future.