New CHS Academic Decathlon team will face Ventura County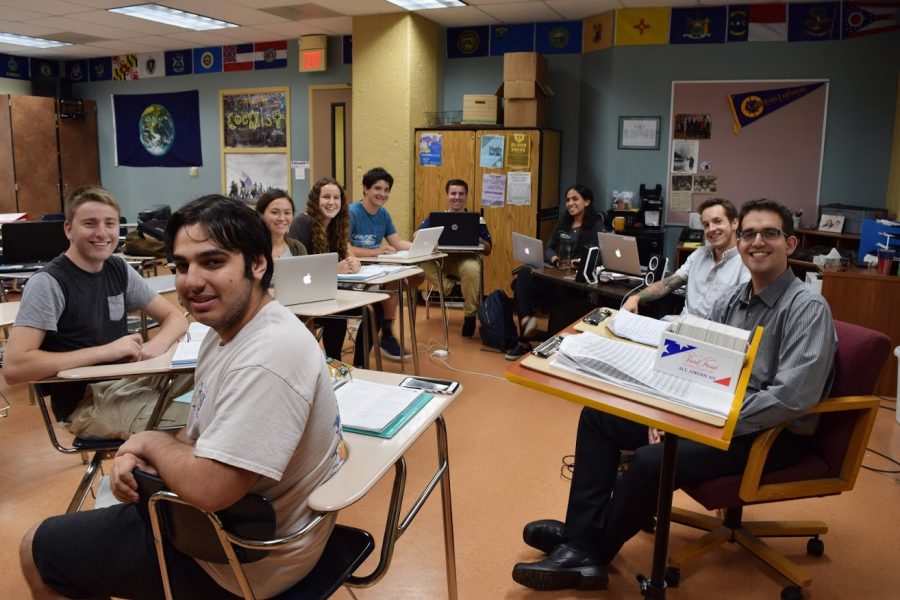 This year, CHS has decided to start a new Academic Decathlon team, spearheaded by AP U.S. History teacher Tyler Lee and AP Statistics and College Preparatory Statistics teacher Michael Fienberg. The Academic Decathlon team will compete against other schools in quizzes, tests and questions in regional competitions located around the Los Angeles area.
The AcaDeca team is open to students of any academic stature. Each team is required to have students from each end of the grade point average spectrum.
"The teams that do best are the ones that have committed and motivated students at the lower GPA level," said Lee. "You can find motivated students in any school, but to find a motivated student that has time to compete at the AcaDeca level, that lower GPA level is key to succeeding."
CHS is joining a rather intense AcaDeca environment, given that California has won 23 national titles in 35 years, many of which belong to local schools such as El Camino Real and Granada Hills. The Academic Decathlon is comprised of over 13,000 students and about 50 teams from California.
"The Academic Decathlon combines the strength of academics with competition," said Lee.
The Calabasas team will be competing against Ventura County schools this year such as Moorpark, Ventura and Westlake. Other local schools such as El Camino and Granada Hills would only meet Calabasas at the state level.
"We have a lot of really great sports on this campus," said Fienberg. "The Academic Decathlon is a sport for students who are more school-focused."
The California Academic Decathlon covers a broad range of school subjects and testing styles. The team members each take 30 minute multiple choice tests, followed by two speeches, an interview and an expository essay. The final event is the Super Quiz Relay, in which team members answer questions in front of an audience. The curriculum includes art, economics, music, language, literature, mathematics, science and social sciences.
"I think the Decathlon is something that the school definitely needs," said Fienberg. "There is no reason that people here would not be motivated enough to have a team… we have a really strong school, so I think we have a really good shot at making it to the next level, to state."
The California Academic Decathlon is separated into four rounds. The first round takes place in November and consists of scrimmages. The second round begins in February and includes regional competitions. The third round occurs in March in Sacramento and determines the state champion. The national championship is held in April.
"As a foundational year, we are learning as we're going. I think we could easily win Ventura County," said Lee.