Social media: society's new sleuth
Recent cases have proven that internet sleuths across all social media platforms have the ability to help solve crimes. With no criminal investigation experience, Tik Tok users from across the world came together as they shared and pieced together evidence that ultimately found missing person Gabby Petito. 
An internet sleuth is a person who searches the web for information to help solve certain crimes, mysteries and puzzling situations. TikTok experts have become amateur detectives. 
According to the National Missing and Unidentified Persons System, over 600,000 people in the U.S. go missing every year but very few of these cases get any media coverage, and therefore most of these people are rarely found. In the Gabby Petito case, Petitio was reported missing after her fiance, Brian Laundrie, returned home early and alone from their cross-country road trip. When Northport, Florida police attempted to contact Laundrie, he invoked his Fifth Amendment rights and refused to speak to authorities. With very few leads as to Petitio's whereabouts and Laundrie remaining silent, authorities were left without any meaningful evidence. Petitio's family was left hopeless until social media users took interest in the case. 
Social media platforms such as TikTok, Instagram, Facebook, Twitter and Reddit began sharing Petito's missing person poster. Within hours, these platforms were flooded with personal detailed accounts of Petito and Laudrie's most recent sightings and interactions. Tik Tok's algorithmic-based system effectively spread the word as videos tagged with #GabbyPetito were viewed over 1.2 billion times. 
Youtubers named Red, White & Bethune are labeled the heroes of this case after they noticed Petito's van in the Grand Tetons while editing their footage. They immediately shared their information on social media and then contacted authorities. Hours later, Petito's body was found. The online community solved a case that police and the FBI were struggling to even begin where to search. A case that most likely would have remained unsolved took only five days to uncover just because of the viral videos. 
Petito's case is just one example that demonstrates the effectiveness of internet sleuthing. After the storming of the U.S. capital on Jan. 6, an online community was able to identify suspects based on images that were shared across social media. The work of these sleuths by sharing evidence and contacting authorities resulted in numerous arrests, convictions and ultimate justice. 
Social media now serves a new purpose. Petito's father spoke with great gratitude for the power of social media, stating that every missing person deserves the online attention that his daughter's case received in obtaining closure. The newly formed Gabby Petito Foundation was founded for this exact purpose. Hailey Toumaiam, a Tikok enthusiast, who was involved in spreading information about Petito's case, has now gained over 721k followers and is using her vast following to help other missing person cases. Toumaiam has committed to ensuring that missing people from all backgrounds receive the same attention and focus as was devoted to Gabby's case. Toumaiam has shared social media updates on missing persons Lauren Cho, Daniel Roberson, Amanda Green and Miya Marcano.
Tourmaim's online efforts were instrumental in identifying the missing body of Jelani Day. These social media efforts not only help to figure out long-standing unsolved mysteries, but they also bring attention to missing groups that up until now have been essentially ignored. Authorities believe the discovery of Robert Lowery, whose case was left unprompted, was due to the widespread attention of Petito. The discovery of social media's benefit to ongoing investigations will continue to lead to new ways technology can aid law enforcement. Several people have proposed the creation of an app that works exclusively to find missing people. This app can bring users with the right knowledge, time and compassion together in hopes of finding lost people. 
Some argue that future cases will not be solved as easily through social media. Posts can get lost among accounts and may reach the wrong people that will interfere with a case, affecting the progress that has been made. Others note the high risk and potential spread of fake news that could actually impede the case. However, fake news has been prevalent since the start of media, and consequently, it is important to get information from several reliable sources or trustworthy social media accounts. Fortunately, social media platforms have the tools to block the spread of misinformation.
Internet sleuths have unlimited abilities and effective forces to reinvent the future investigation progress of crimes. 
Donate to Calabasas Courier Online
Your donation will support the student journalists of Calabasas High School. Your contribution will allow us to purchase equipment and cover our annual website hosting costs.
About the Contributor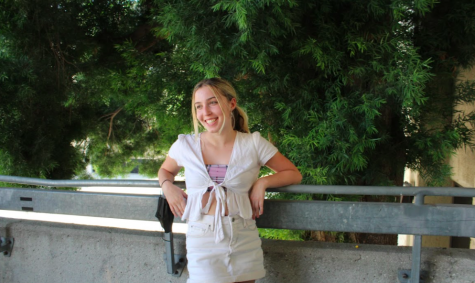 Jordyn Feenberg, Digital Editor
Hi, my name is Jordyn and this is my third year on The Calabasas Courier.  I am so excited and honored to be the Digital Editor. As a sophomore, I was...