College hazing needs stricter punishment
Many students look forward to Greek life as a significant part of college. Not only do fraternities and sororities offer students a community, but students gain a sense of identity to carry with them. However, a night of enjoyment is never worth risking a life, and America must do more to end the consequences of college hazing.
 Hazing is a prominent aspect of the typical "college experience" in fraternities, yet its dangerous ramifications continue to lead to casualties. Over 200 hazing-related deaths have occurred in the U.S. since the 1800s.
Forty-four states out of fifty have anti-hazing laws, but only fourteen states have legislation considering hazing a possible felony. The heartbreaking loss of a student due to a night of irresponsible behavior in the sphere of a school campus, which should be a safe space for students, is never okay. America overlooks the numerous deaths and injuries caused by hazing, and the newest victims only become another grim statistic. Even if hazing does not lead to death or serious injury, peer pressure alone places students in uncomfortable situations and therefore harms their well-being. In order to evoke change and discourage such a harmful activity, universities need to take on more responsibility. Students should face stricter punishment, which begins with all fifty states treating more hazing cases as felonies.
For many fraternity members, the pressure to consume alcohol can be hard to challenge; however, the death of a young student is even more difficult to cope with. In February 2021, Virginia Commonwealth University freshman Adam Oakes died from alcohol poisoning at a fraternity party. Oakes was just 19. Originally, eleven members were charged in Oakes' death, and only one pleaded guilty, facing mere misdemeanor charges for the actions that took Oakes' life. As of 2022, charges against five members have been dropped, leaving Oakes' family to continue to struggle for justice. Not only does hazing kill, but it destroys victims' families, many of whom must grieve while resigning themselves to a lack of adequate punishment. 
For other students, a sense of caution lingers due to the potential threats of Greek life. Lilyana Brkic, a freshman at UC Davis, looks forward to the start of school but acknowledges the importance of staying safe.
"Greek life can be an important part of college life for a lot of people," said Brkic. "Good things can happen, but bad things can also happen, so I think it is important for students to be careful."
Life-altering injuries can also stem from hazing incidents. In October 2021, University of Missouri freshman Daniel Santulli experienced hazing that resulted in the loss of his abilities to walk and communicate, as well as his vision. One student who poured alcohol into the minor's mouth via a funnel and tube was only charged with a misdemeanor, even though his actions directly contributed to Santulli's intoxication and severe injuries. In June 2022, frat members involved finally faced felony charges, but only after Santulli's family petitioned for such charges against them. Families of victims should not have to create petitions to garner real progress.
Oakes and Santulli are just two examples of the effects of hazing and represent the demand for greater ramifications for those involved in the practice. The pressures that fraternities place on incoming members have not been as strictly discouraged as they could be if more students faced felony charges. 
With that said, universities and laws can only control students to a certain extent. Hazing is not likely to just disappear from college life, which is why the United States must continue to push for stricter regulations. It is the responsibility of legislators and college campuses to educate and protect students when it comes to hazing. Schools must emphasize educating not only those who participate in Greek life but other students as well in order to ensure safety. For instance, Ursuline College in Ohio requires hazing education for all students, student organization members and faculty. UCLA staff also provide workshops to encourage hazing prevention. Schools must also not hesitate to expel students. In the case of hazing victim Stone Foltz, Bowling Green State University expelled 20 students. 
However, education and expulsion are the bare minimum of hazing prevention, and many must shift their views and start recognizing hazing as a federal crime to produce real change.
Donate to Calabasas Courier Online
Your donation will support the student journalists of Calabasas High School. Your contribution will allow us to purchase equipment and cover our annual website hosting costs.
About the Contributor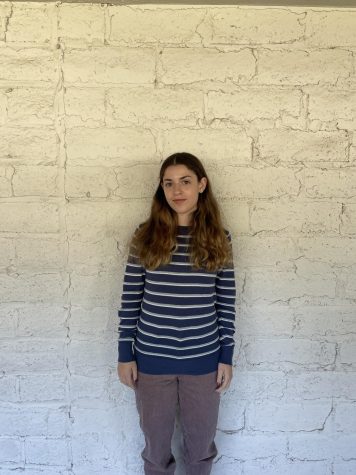 Sedona Kaye, Perspectives Editor
Hi! My name is Sedona Kaye, and I'm the Perspectives Editor this year. I learned so much as a staff writer last year and can't wait to learn more....