CIF T.V. provides new exposure for student athletes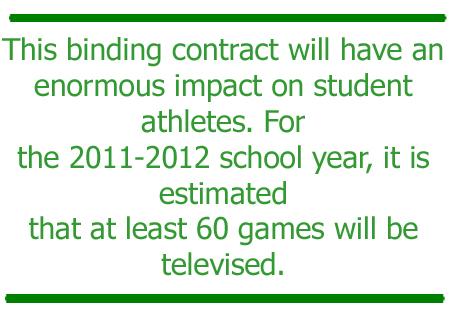 Pegah Natanzi - Staff Writer, '14
October 29, 2011
The California Interscholastic Federation has signed a contract with Time Warner Cable. They are now the authorized television distributor of the CIF regional and state championship games and numerous other sporting events.
CHS sports teams will now have an opportunity to appear on television.
"We will televise both boys next 15 years, TWC will stream high school sports games through devices such as television, the internet and cell phones.
This binding contract will have an enormous impact on student athletes. For the 2011- 2012 school year, it is estimated that at least 60 games will be televised. In future years, TWC and CIF believe that around 80 games will be broadcasted annually. The program will also feature profiles of the student athletes and the coaches.  It will also provide these athletes with a better opportunity to be noticed by colleges, giving them a greater chance of being recognized.
"There are no requirements schools need to meet, and currently there is not a process by which schools can request to be featured by TWC," said CIF Media Relations Officer Rebecca Brutlag.  "TWC will be selecting certain games to cover based on scheduling, availability of staff, trafficking, sections and the CIF State Office."
According to the Benton Foundation, CIF represents 1,500 public and private high schools and 757,000 student athletes in 10 geographic districts in California: central coast, Los Angeles City, north coast, Oakland, San Joaquin, San Diego, San Francisco and northern and southern California. CIF conducts regional and state championships in 22 sports, including cross-country, football, volleyball, tennis, wrestling, basketball, soccer, track and field and golf.
"We try to cover all geographic areas and many sports along with championship games. There are no specific requirements [for the CIF high schools to air on television]," said
Rosenblum.
Highlights of football games and other high school sports are currently shown on TWC's regional news and their local channel SoCal 101 on Friday evenings.  Although TWC currently centers on the Los Angeles and Orange County high school sports leagues, its boundaries will broaden to a bigger territory in the approaching seasons.
In addition, the games will be screened on Channel 111 for cities in the desert and Channel 411 for the San Diego or Barstow district. Furthermore, a handful of the games may possibly be shown on larger-scale, regional sports networks like the LA-centric sports network, which focuses on the Lakers.
Besides televising full high school games, SoCal 101 will air high school sports entertainment shows including Varsity Round-Up, which reviews each weeks great games, Wednesdays at 7 p.m., and Prep Sports Night Live, an interactive call-in show that displays up-to-date scores, highlights, interviews, once a week on Fridays from 10:30 p.m. until midnight.
"Through this new partnership, TWC brings additional elements to the overall high school athletic experience," said Brutlag.  "It will bring exposure to CIF schools and students like never before." •