Terrell Owens comes to CHS for NFL scouting day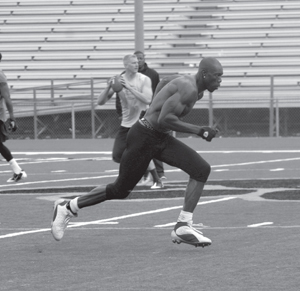 Maddi Pariser - Sports Editor and Hunter Morris - Sports Editor
October 29, 2011
Other articles you might be interested in:
Freedom Rider Rick Sheviakov makes a special appearance at CHS
On October 25, former NFL player Terrell Owens participated in a scouting day at CHS.  After undergoing knee surgery, Owens has worked persistently towards regaining a position in the NFL.
The free-agent wide receiver ran several drills that were televised on ESPN and the NFL Network (below).
Owens is currently unsigned, but hopes to be drafted before the end of the season.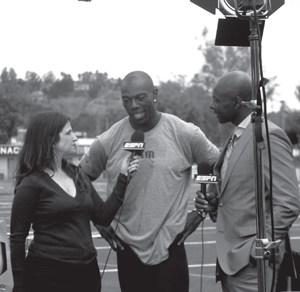 Matthew Hatchet, the CHS defensive coordinator and receivers coach, brought Owens to CHS in order to gain beneficial publicity for the school. CHS head football coach Christian
Pierce felt that by having a high profile athlete at CHS, more students will be interested in the football program.
"Students often come to CHS and then end up leaving to play for other schools," said Pierce. "I want the students to stay here.
This is also something that will be great for prospective students to take a look at."
Pierce hopes that Owens' appearance will motivate the football team to push themselves as the season progresses. His goal for the team is to recognize that hard work and persistence pay off; and Owens is a perfect example of this.
Other well-known athletes that attended the scouting day were former NFL receivers Jerry Rice and Keyshawn Johnson.  Each of these famous football players had successful careers into their late thirties, which is exactly what Owens desires to accomplish. Trying to restart his career at his current age of 37 will not be easy. However, Owens has proved that he is healthy and ready for the NFL.
Coming back from a major injury is difficult for any athlete.
Owens is aware of this challenge; therefore, he knew that he needed to continuously practice in order to impress the NFL scouts.
"I wanted to come in and get a good workout," said Owens. "I am in the process of rehab and [I am] trying to get back into the swing of things."
Owens, who has played at virtually every professional stadium across America, noted that CHS' field is truly exceptional.
"I was surprised by the quality field. This is probably better than some NFL fields," said Owens. "Hopefully running routes out [on the field] can bring the CHS football team some good luck."•