Fantastic Freshmen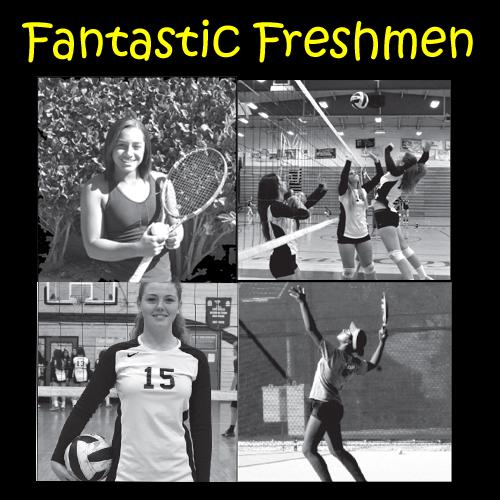 Jessica Fuld - Staff Writer, '14
October 30, 2011
Starting out high school can be a very intimidating experience. For freshmen, everything is new and standing out can be a difficult task.  However, two freshmen have displayed athletic potential to help them shine.
Jensyn Warren and Madison Hatfield are the only two freshmen athletes to make it on to varsity sports teams for the 2011-2012 fall season.
Warren has been playing tennis since the age of seven. She practices for hours, and she is always trying to improve and perfect her game.  Like any athlete,
Warren makes mistakes; however, she learns from them and grows.
"If I miss a shot, I walk back to the fence and grab my towel," said Warren. "I also fix the strings on my racket; I take a moment to think about my mistake and regroup myself."
Throughout her tennis career, Warren has inspirations that have made a huge impact on her outlook of the game. Tennis sensation, Serena Williams, has played a huge part in motivating Warren.
"Serena Williams is incredibly athletic and fights for what she wants, just like me," said Warren. " I compare myself to hear because we are both extremely aggressive and take it one point at a time."
Although some athletes begin playing sports at a very young age, others seem to acquire a natural gift. Hatfield now plays middle blocker for the girls varsity volleyball team. On a daily basis, Hatfield works to improve her skills and knowledge about the game of volleyball, and her teammates have been an especially huge support.
"The older girls on varsity have been really great, and I love them," said
Hatfield.  "If [I] mess up or make a mistake, they are patient and help me learn."
Hatfield has been learning about the different aspects of volleyball, including the rotation of players. Her position requires her to block shots and spike the ball over the net.
"I love that feeling I get when I hit the ball over and get the kill. There isn't anything else like it," said Hatfield.
Madison Hatfield's mom, Lisa Hatfield, played volleyball for CHS and then played at UCSB. Her mother's knowledge and support gave Hatfield the confidence to try out for the volleyball team.
Varsity coach Cory Chandler recognized potential in Hatfield over summer and has since seen drastic improvements.
"At the beginning of the summer [Hatfield] was all heart and hard work and now she is learning to channel those efforts into a proper purpose," said Chandler.
Throughout high school, many students experience new things, and discover who they are. For athletes, they find their athletic identities and grow as players.
Freshman athletes learn about their strengths and weakness, and they develop new skills everyday. •