Major League Baseball suspends players involved with performance enhancing drugs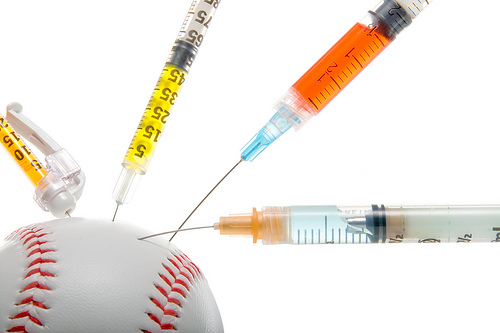 Suspensions were announced on Aug. 5 to 14 Major League Baseball players for their involvement with performance enhancing drugs.  The use of performance-enhancing drugs in the MLB is forbidden, yet major league players still abuse them.  Many fans are left disappointed that their favorite players have cheated in order to play well.  Those who play in the MLB are admired and are seen as role models, making drug scandals like this a very controversial issue.
Although the players have the option to appeal their suspension due to the fact that none of the players tested positive for the use of performance-enhancing drugs, evidence showed that the players had ties to the Southern Florida anti-aging clinic Biogenesis of America.  The clinic illegally sold the players PEDs.
"So many players have denied taking steroids, and then it comes out later that they have tested positive," said CHS baseball coach Thomas Cassidy.  "Now when someone plays well suspicions are raised that they are using PED's.  They are kind of running the game for everybody."
Among the most notable of the suspended players are Rangers outfielder Nelson Cruz, Tigers shortstop Jhonny Peralta, Padres shortstop Everth Cabrera, Brewers slugger Ryan Braun and most notably, Yankees superstar and third baseman Alex Rodriguez.  All of the suspended players were disciplined with a fifty game suspension, except for Rodriguez who was suspended for 211 games and Braun who was suspended for 65 games.  Since the suspensions were based upon evidence found during the Biogenesis investigation and none of the players tested positive for the PEDs, the players have the option to appeal the suspension for a lighter suspension.  Rodriguez is the only one among the fourteen players who is appealing his suspension.
As one of the star players for the New York Yankees, Rodriguez is viewed admired by many people.  Rodriguez's decision to appeal sets a bad example for his younger fans who look up to him, and many people believe he should own up to his mistakes and take his suspension in stride.  His involvement with performance-enhancing drugs along with his denial of using them has many fans questioning the Rodriguez they thought they knew and loved.
"I think that Alex Rodriguez should be more accepting of the suspension, especially since it is not his first time getting busted" said freshman baseball player Nick Sanitsky.
When Braun was first accused of using PEDs, he strongly denied the claim.  Now that this is his second time being accused, many of his fans feel as if he has let them down.  Even though Braun has apologized for his actions, many fans feel as if his apology is not enough.
"[Braun] should be banned from the major leagues for life.  People lost their livelihood because of his lie and the way he acted," said Coach Cassidy.
The use of performance-enhancing drugs is never acceptable, and these fourteen players have to learn that the hard way.  While their suspensions will eventually end and the players will be able to play again, fans and critics will not forget this scandal anytime soon