Meet senior soccer star Charlie Tipp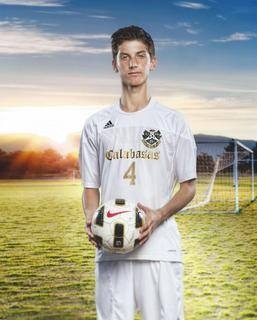 Senior Charlie Tipp has caught the eyes of college scouts with his will-power that has made him a soccer star.  His biggest motivation to perform well in soccer has been his wish to get into an exceptional academic college.
"All the hard work has paid off," said Tipp.  "I always dreamed of playing in college, and now it is going to be a reality."
Tipp has not yet committed to a college, but he has received offers to play for Occidental College and University of Massachusetts Amherst.  The University of Pacific, University of Redlands and Cal Lutheran University have additionally shown interest in Tipp, and he hopes that this will result in more offers.  Education is just as important to Tipp as his love for soccer.  Ultimately, Tipp would choose to go to a better academic school in comparison to a school with an exceptional soccer team.  He works hard year round so he can receive the best college education.  Although Tipp has a lot of natural talent, he has also put in the extra time and work it takes to become the best he can be on and off the field.
"I work hard at practice, and I do extra work on my own," said Tipp.  "Whether it's going on a run, working on agility or even working on my ball skills, I always try to put in extra practice to get better."
Tipp has a great support system that has been with him every step of the way.  They not only encourage him, but also urge him to try his hardest.
"My family, teammates and coaches have always been there for me," said Tipp.  "They have pushed me hard and supported me throughout my soccer experience."
Tipp's need to succeed has molded him into the player and student he is.  He hates to lose, so he is constantly trying to win.  Tipp believes his desire to win has gotten him so close to his dream of playing college soccer.