Varsity basketball captain Jeremy Lieberman leads the team to a successful season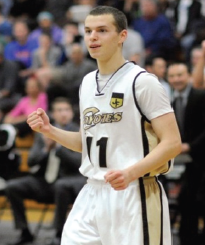 Over the past four years, one point guard has taken over the Marmonte League, and his name is Jeremy Lieberman. As a freshman, Lieberman immediately assumed the role as a starter on a very strong CHS team that made it far in the playoffs.  As an underclassman, he emerged as one of the best overall players in the league and won Most Valuable Player in the Marmonte league as only a sophomore.  He also led CHS basketball to the California Interscholastic Foundation title that year.
Coming into his senior year, there was a lot of hype about where he is going to play in college.  Over the summer, he decided to commit to the University of Wyoming to play in the 2014-2015 season.  He also received interest from St. Mary's, UC Santa Barbara and UC San Diego.  Lieberman is very excited to play college basketball and is hoping that it is the right fit.
"[Wyoming is] really just the best fit for me," said Lieberman.  "Someplace where they will put the ball in my hands.  The location isn't really a factor; I'll play anywhere.  As far as early playing time, I obviously want to play but I know I have to earn my time."
This year, Lieberman is off to a hot start.  He has led the Coyotes to a 9-1 league record and has had several outings of over 20 points.  He is also distributing the ball effectively.  Hopefully, his skilled play along with big contributions from all of his teammates will lead the team back to a CIF title.
Calabasas as a whole is on a 8-game win streak and that is due to great performances by not only Lieberman.  Seniors Austin Smith and Larry Bush are also leading the Coyotes during this impressive midseason stretch.  The senior leadership and the strong performances are making Calabasas one of the hottest teams in the Marmonte League.