Get fit for summer with these helpful hints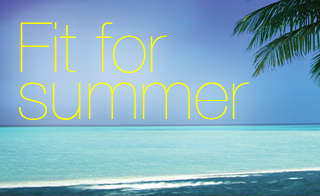 Hang on for a minute...we're trying to find some more stories you might like.
While the school year begins to wind down, seniors look forward to the future beyond the walls of CHS as underclassmen are enlivened by the much-needed break before advancing through the ranks of high school in the fall.  Whether you fall under the former or latter category, starting your summer fit or using these months off to get fit seems to be a universal goal.  By following these six simple steps, achieving and maintaining the ideal summer body will seem more attainable than ever!
1. Do not drink your calories.  Though a glass of orange juice with breakfast or can of soda here and there may seem harmless, these liquids add unnecessary calories to your day.  By sticking to water, you are potentially cutting out 300-400 calories per day, which will add up.
2. Substitute parts of your meal to give your food a healthier vibe.  Try exchanging a hamburger bun for a lettuce wrap, a beef patty for turkey or ranch dressing for balsamic vinaigrette.
3. Stay away from processed foods.  As a helpful hint, the more ingredients in a food that you cannot pronounce, the worse that item probably is for your health.
4. Try not to eat food past 7 p.m.  When you eat food late at night, your metabolism is not able to digest your dinner as quickly as it would if you eat earlier.  While your metabolism is working at a faster speed during the day while you are more active, it slows down at night when you are sleeping, causing food to move through your digestive system at a slower rate.
5. Get active.  Find a friend to go to the gym with or take 30 minutes out of your day to go running.  Effective physical activity is not always about the amount of time you spend working out but about the intensity you put into the time you do spend.
6. Be positive and stay motivated!  Living a healthy lifestyle will make you feel better inside and out, and you will be surprised with how quickly you will see yourself make progress!