CHS offers new surf team for students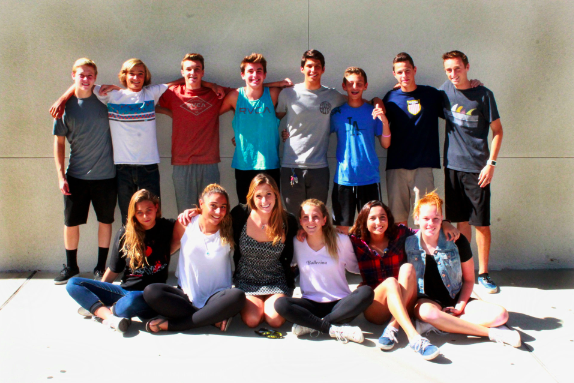 Recently, CHS has added a surf team to its athletic program. World History, United States History and Government teacher Emily Fillmore is the coach and will be helping the students improve their skills and learn the basics of surfing. The team was created after many requests from prospective students.
"I have and will be working very closely with the skills the students have offhand," said Fillmore. "I want them to focus on learning new things, but mostly improving what they know.
Fillmore has enjoyed surfing for most of her life. Her surfing career was put on pause for her other passion, teaching. When Fillmore began her work at CHS, she had no idea that she would soon be the advisor to a team where she could combine her enthusiasm for both teaching and surfing. Fillmore was approached earlier in the year by junior Gavin Gottlich and instantly agreed to coach the CHS surf team.
"[Gottlich] came to my class and asked me to be the surf coach," Fillmore expressed. "Now I get to teach and surf at school and it's awesome!"
Gottlich is the founder of the surf team. He underwent a long process in order to create the team he was so passionate about making. Gottlich wanted to create a surf team at school that was part of the Scholastic Surf Series League, a group of high school surfing groups throughout California. To do this he talked to the assistant principal, requested Fillmore as the instructor and filled out a club request form.
"Its all about the surf community to me," said Gottlich. "I started the team because I wanted to have a community of surfers and friends to go surf with rather than [surf] by myself."
Students joined in order to build on their skills or learn new ones and hang out with their friends. When tryouts were held, Gottlich accepted team members based on skill, motivation, and dedication. While some students have no previous experience, others have been surfing all of their lives.
"I have been surfing for a really long time," said freshman Kaitlyn Dorff. "I knew that, with all the surfing skills I already know, the team would be a fun experience."
Practices meet at various locations and are typically located at Malibu Third Point. The students train at each practice to prepare for competitions against other schools. Students will learn what goes on during a contest, how to compete and new surfing techniques.
"I've really enjoyed the experience so far," said Gottlich. "The things I have learned this year have truly improved my surfing."
Throughout the year, Fillmore hopes that the students will learn from her as well as enjoy the water and create a surfing community in Calabasas. In time she also hopes the team will do well enough to be considered an official sport at CHS.