NFL exhibits religious bias in its policies on the field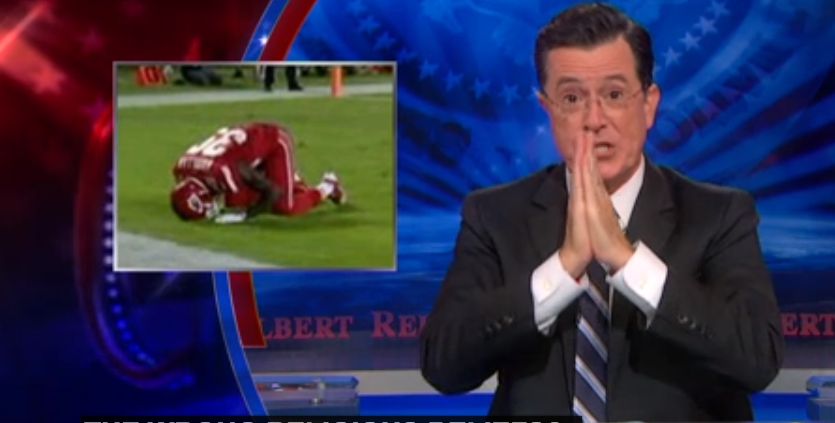 In the United States, football is the king of entertainment. Millions of die-hard fans tune in each week to watch their favorite teams slaughter each other in billion-dollar arenas. The power of professional football captivates fans across the country, but Americans glorify the brutality of football. Like Spartans watching the gladiators, they cheer for all the big hits and praise those who inflict them. But how obsessed are fans with the National Football League and its players? Are supporters too blind to realize that this organization is not above the law? The NFL and the recent appalling scandals should not be overlooked. Prejudice ruins the reputation of sports organizations, makes players feel as if they are being used for profit and is an unjust depiction of a player's personality without any background.
Questions about the NFL's leadership arose this past September when a video of Baltimore Ravens running back Ray Rice surfaced, showing him physically abusing his then-fiancée in an elevator. Two additional players were later accused of engaging in violent conflict with their girlfriends behind closed doors. The public's criticism of the NFL escalated when the Minnesota Vikings' running back, Adrian Peterson, was later accused of whipping his child with a tree branch. While the domestic abuse controversy continues to plague the NFL, the reputation of the league was harmed yet again after another mistake in its management. On Sept. 30, Tom Brady, the quarterback of the New England Patriots, threw an interception that was picked off by Kansas City's defensive back, Husain Abdullah. Abdullah returned the pass to the end zone where he slid on his knees in prayer. However, the screaming fans were silenced by the sound of whistles and by the sight of referees throwing yellow flags. Abdullah had been penalized for celebrating on his knees and was penalized with a loss of 15 yards. The NFL prohibits any act of prayer during games, yet there seems to be an exception for Christian players. People like Brandon Marshall and Tim Tebow are famous for their prayers before and during games and are never punished. Marshall and Tebow are even admired as pious role models for praying while competing; however, Abdullah was penalized by referees for acknowledging his Islamic faith. After realizing the double standard, the NFL quickly apologized to Abdullah for the poor call, but the damage had already been done. Inequality can be seen at all levels in our society and prejudice should not play a role in American sports.
Professional sports should embrace the diversity that creates both profit and entertainment for the entire population. Athletes should feel secure while doing their jobs, and Roger Goodell, the NFL commissioner, has to recognize that those who threaten the professionalism of football have to be corrected. Players and fans alike might lose faith and interest in the organization. The NFL's actions, or lack thereof, are offensive.
"This incident shows the ignorance of the NFL towards the Muslim religion," said junior Kevin Seydan. "The league can apologize but they cannot change the fact that they made a big mistake. The NFL should treat all of their players respectfully."
Professional athletes play sports as their jobs. Similar to workers in an office, they have expectations, personal issues and bosses. To be able to produce and excel, employees cannot be subjected to prejudice or exploitation in the workplace. Apparently, this idea seems like it pertains to typical lines of work, but not necessarily to sports. At the end of the day, the players that risk their lives and the lives of their families are the ones that are responsible for Goodell's $44 million annual salary (NBC Sports). The NFL and other professional sports organizations must respect, honor and protect their employees.
Religion is one's individual belief and no one should be judged for believing in different philosophies. In America, citizens often assume the worst of immigrants and their customs, but they neglect the fact that unless someone is a native-born American, then they too are foreigners or descendants of foreigners. This is the United States, the so-called land of the free, and no religion, race or gender should be believed to be superior. Heroes like Jackie Robinson, Muhammad Ali and Roberto Clemente did not endure the scrutiny of their time period for prejudices to be accepted in the world of sports today. Abdullah is not only an American but also an exceptional man who should be idolized, not criticized. He is devoted to his family, profession and religion. He spends much of his time taking care and providing for his 11 other siblings. He is dedicated to football, training late into the evening during the off-season, which eventually prompted the Kansas City Chiefs management to resign Abdullah on March 13. As an undrafted rookie, he was signed to the Minnesota Vikings in 2008 and has worked as hard as any other player to solidify his place in the NFL. He and his brother also hosted a free football clinic for children in 2011. In 2012, Abdullah visited Mecca with his brother, Hamza. He felt it was important to experience the pilgrimage and Ramadan in his holy land. Abdullah is as respectable as they come and he should not have been punished merely because his name suggests that he is part of a misunderstood group of people.
The NFL has been admired by many for nearly a century. The culture of the organization and its fans has evolved to an almost untouchable point, but the league is certainly losing its historic appeal. Of course fans will watch many more games and will always appreciate those who can endure the brutal sport of football. However, the sly and corrupt actions that the NFL tries so hard to conceal must be revealed and corrected.