Senior star athletes will continue their athletic careers in college
Hang on for a minute...we're trying to find some more stories you might like.
Arthur Kaslow
Senior Arthur Kaslow has committed to Dartmouth College to play football. After visiting Dartmouth, he realized how much he adored the campus. During his visit, Kaslow was offered a spot on the team by the head coach of Dartmouth.
Kaslow's athletic career began in fourth grade playing football for the Calabasas Raiders, a local club team. After Kaslow had a brief stint playing basketball as a high school underclassman, Athletic Director Corey Chandler, persuaded him that football was the path to take. When reflecting on his high school career, Kaslow is most proud of the accomplishments he and the football team have made, which include a league and California Interscholastic Federation (CIF) championship.
"I am extremely thankful to have been apart of both the basketball and football programs," said Kaslow.
Kaslow had a promising season for CHS during his junior year, but lived up to his potential this year. He led the Coyote defense averaging 8.4 tackles per game, recording an impressive 118 total tackles on the year. He also contributed 30 tackles for losses and 10 sacks in the 14 games he played.
His individual hard work and success earned him recognition from several division one universities. However, Kaslow only had one school in mind. He absolutely loved Dartmouth; there was no other college that he would rather go to.
"I am extremely proud to be committed to my dream college and to play football for it next year," said Kaslow.
In addition to his athletic career at Dartmouth, Kaslow plans to study Economics in college and become a hedge fund manager. Though Kaslow will not be wearing a black and gold uniform next year, he promises to continue representing CHS at the next level.
Julia Pedati
Senior Julia Pedati first started playing soccer when she was four years old and has worked diligently to improve her game ever since. During her sophomore year, Pedati turned down interest from several colleges including the University of California at Berkeley, the University of North Carolina, the University of Virginia and the University of Colorado Boulder, and committed to her dream school, the University Oregon.
"Four words that describe me are ambitious, passionate, creative and determined," said Pedati.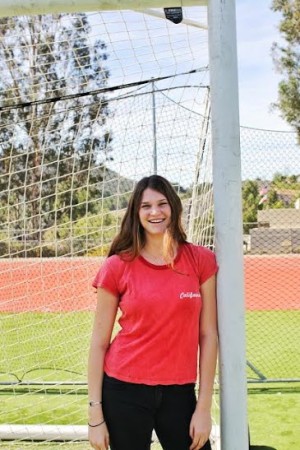 In 2014, playing at the highest level of competitive soccer, Pedati scored 26 goals, the most in the nation. She has played on four different teams and she is currently on LA premier, which is a club based in La Cañada. Pedati is inspired by her parents who were both serious athletes themselves. Her dad won an NCAA running title back in college and one day Pedati hopes to win a championship herself for soccer. When deciding where to pursue her athletic career at the next level, Oregon was an easy choice.
"Everyone said to pick a college you will love to go to even if you are not playing soccer anymore," said Pedati. "I loved Oregon from the second I stepped on the campus. I love the school spirit and how connected all the sport teams are."
After being accepted into the University of Oregon, Julia's short-term goal is to earn a starting spot on the field at Oregon this fall. Her long-term goal is to win a national championship. Soccer has affected Pedati's life greatly and she has learned a lot from the game. She has made huge sacrifices for soccer, but has learned to cope with consequences to continue excelling at her passion. Pedati has scored more than 500 goals in her soccer career and intends to score many more in college. She has gained life long friends from soccer and this has shaped her into the unique person she is today.