CHS girls tennis makes its way to CIF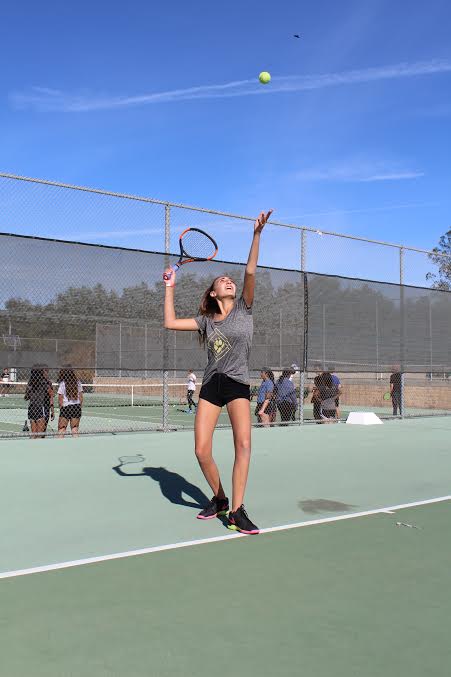 Liv DuFine - Staff Writer, Nadia Grauman - Photographer
January 3, 2018
This year has been especially memorable for Girls Tennis at CHS, as they made it to the second round of CIF, a feat the program has never before accomplished. The team remains diverse this year, as all grade levels are represented on the team.
"I have loved being on tennis this year and last year," said Nico Zacharatos. "It has been such a great experience and I've met so many great people on the team. We are always able to work well together."
Junior Sindhu Srivats is a renowned member of the team and was a big factor in CHS' first-round CIF win. Srivats has been on the team since her freshman year and has loved forming close, family-like relationships with the coaches and other members of the team. During CIF, she played doubles with her partner, Lauren Krazilovsky, placing second in doubles with a season record of 28-2.
"Throughout CIF, Lauren and I played teams that were a bit challenging, but we ended up pulling through," said Srivats. "Playing together during season really helped our styles bring out the best in each of our games. Being able to experience winning in high level CIF matches with our team was really invigorating because we started forming deep bonds that we'll all cherish."
Despite being new to the team this year, freshman Daniela Kukudruz greatly helped CHS at CIF. Kukudruz loves being on tennis and spending time with fellow team members.
"We were playing in South Torrance and we were down a player, so Gianna, Tiffany and I got to fill in for the singles spot. It was super last-minute, so fun to play and a truly great experience," said Kukudruz. "It made me even closer to my team and gave me valuable experience on Varsity."
All in all, Girls Tennis has accomplished so much this year, and many people cannot wait to see what next year entails. Not only that, but the girls will continue to bond and build their friendships for years to come.
"It's amazing to see what these girls have accomplished this season," said Girls Tennis Coach Andrea Duva. "I am so honored to have gotten the opportunity to coach these girls all the way to CIF!" •