Boys basketball dominates the court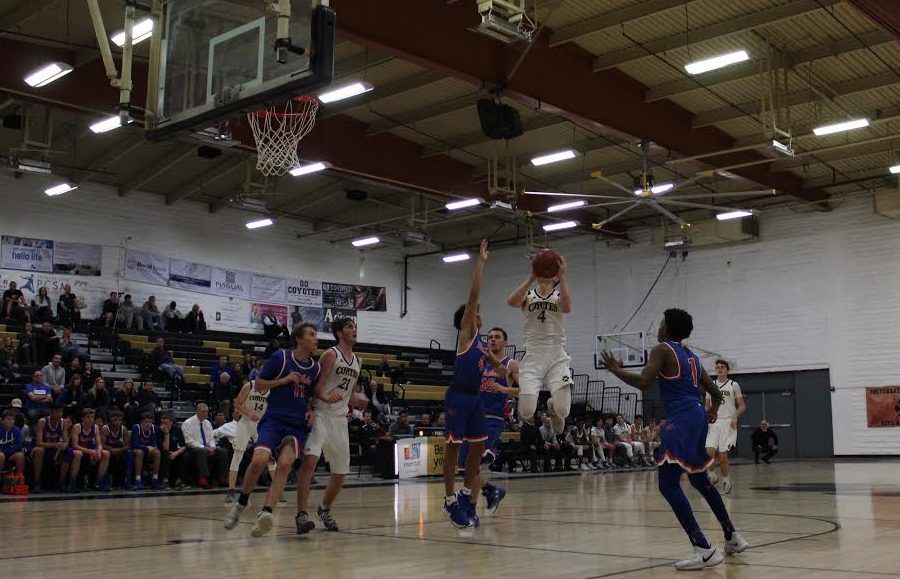 In 2017, Jon Palarz returned to Calabasas High School, serving as both Athletic Director and Head Coach of CHS Basketball.
Before taking a job at Chaminade for the 2016-2017 season, he helped the Coyotes compete with top schools. During the 2015-16 season, Palarz led the Coyotes to the Division 3AA semifinals and Southern California Division III regional semifinals and in 2012, he led the team to CIF Southern Section titles and three league titles.
Last year, Coach Colin Jamerson led the Coyotes to first place in the Marmonte League. As Palarz returns at the helm of operations, CHS students hope the Coyotes make it back to the League Championship.
Known for his strong leadership and clever plays, Coach Palarz is sure to bring the Coyotes success yet again.
"Coach has a nose for smelling out good plays," said senior Deen Favaedi. "When we all communicate, it's like we're on cloud nine."
The Calabasas Coyotes opened their season with a record of 3-1-0. They are currently in second place in the Marmonte League. Although the Westlake Warriors are some of the Coyotes' biggest competition, the Coyotes took a win on Friday, Jan. 19, 2018, defeating the Warriors 61-39 (giving the Warriors their first loss in league play this season). Junior Evan McKay led the pack, scoring 18 points, while senior Ben Kaslow scored 12 points. This team of athletes challenge one another, and they have high hopes to parlay their efforts right into the playoffs.
"This is what all teams play for," said Kaslow. "As long as we keep improving, I fully believe that we'll be a contender again."
As the team works to reach first place, they seek to improve certain aspects of their game.
"The team's biggest improvement from last year would be our defensive intensity," said senior Deen Favaedi "We want to play as one cohesive unit."
While the Coyotes are focused on the present, they cant help but to think about the future of the program.
"Playing on this team the last four years, was one of the best times playing on a court," said Favaedi. "I've had the opportunity to help guide a lot of kids coming up in the program and can't wait to see what they do after I leave."
The Calabasas Boys Varsity basketball team has a home game tonight at 7:30 p.m.