Agoura leaves Marmonte League for Coastal Canyon League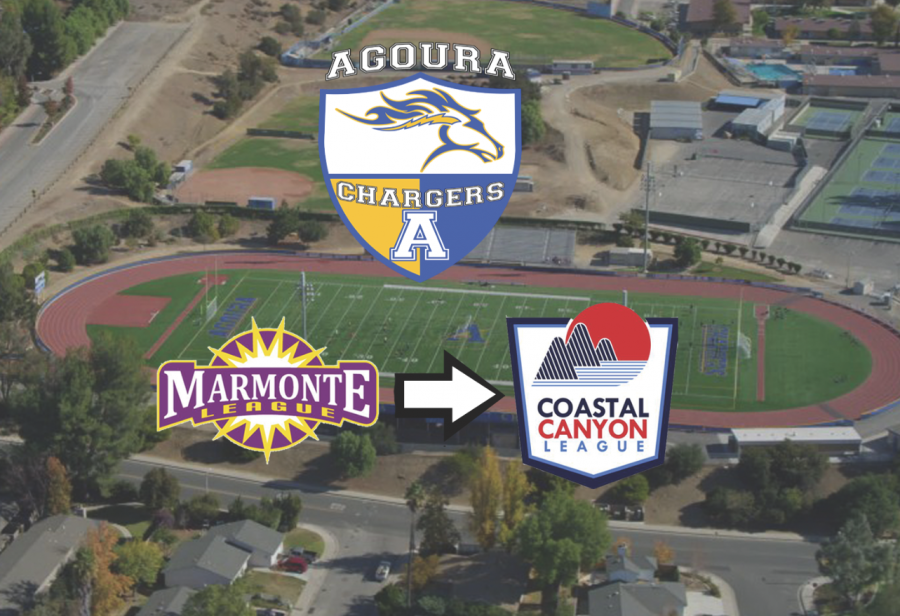 Brandon Blau-Staff Writer, Ava Ghasari-Creative Director
February 25, 2019
In a surprising turn of events, CHS's arch rival Agoura High School has permanently left the Marmonte League and joined the Coastal Canyon League which includes other nearby high schools like Oak Park and Simi Valley. Although many people assume that Agoura left the Marmonte league to compensate for past failure, this is far from the truth.
Before each season, the CIF Southern Section commissioners vote on the placement of the 48 schools making up their section. In the most recent gathering, Agoura was voted out of the Marmonte League and into the Coastal Canyon League. While commissioners view this as the best decision for AHS sports, many faculty, students and parents are outraged, prompting Agoura to appeal the decision; ultimately, AHS lost this case.
"We would prefer to remain in the Marmonte League with our district partner Calabasas, but unfortunately the appeal was unsuccessful," said Agoura's athletic director Garrett Lepisto. "It has been a very confusing process for those not involved."
The Coastal Canyon League is in the same conference as the Marmonte League: the CIF Southern Section. All schools reside in the Ventura County area except for newest member AHS. The league was formed in 2014 and consists of former Marmonte League members such as Royal High School and Moorpark High School. Oak Park High School and Camarillo High School, who are also Coastal Canyon League members, came from the Pacific View League.
Many people are upset due to the supposed weaker competition in the Coastal Canyon League; however, the football team still did not fare well against their new league rivals. The Chargers went 4-7 overall and only won one game in conference play. If Agoura wants to begin competing against stronger teams again, they must win games against weaker teams first.
As a result of their new placement, AHS student athletes may not receive the same high level of exposure as they have in previous years. Overall, the weaker competition may hold players back from reaching their full potential and going onto to be Division 1 athletes.
Many athletes at Agoura are now disgruntled because of this sudden conference transfer. Many sports programs at the school were competitive in the Marmonte League and felt that they could make a run at the league title or already had done so in previous seasons. They will also miss out on adding to the storied history of the Coyote-Charger rivalry. Some Agoura students are also blaming the unexpected transfer on the football team's consistent failure in the Marmonte League.
"We won league last year and deserve to stay in a challenging division," said Agoura Varsity lacrosse player Wyatt Littof. "We should not be penalized for our football team."
Even more, Agoura's transfer has directly impacted CHS athletes who are upset about the loss of their biggest rival. Varsity baseball player Jonathan Zvi reflects the frustration of student athletes regarding the league change while also taking one last jab at his rival school.
"Agoura leaving the league has put a dent in our schedule and is forcing us to have a bye week," said Zvi. "It is too bad we won't be able to face our biggest rival even though they aren't great competition."
Agoura's removal from the Marmonte league will not only impact Agoura, but also all Marmonte League schools, including CHS. This sudden dropout has caused all game schedules to be altered; teams will either play less games all together or schedule additional games against both in and out of league schools, which could mean more traveling for athletes.
CHS principal CJ Foss is not worried about the league altering and instead is focusing on improving Calabasas athletics. She believes that Calabasas Athletics can handle the adversity of the changed schedules and continue to win big games.
"After what we've accomplished, we expect Calabasas to remain in a high level league," said Foss.
In the end, Agoura High School's forced transfer out of the Marmonte league will have a lasting impact on all schools within it, including Calabasas. Without the fierce and highly anticipated rivalry games between CHS and AHS, once heated rivalry will be diminished.