Sixth Super Bowl win for Patriots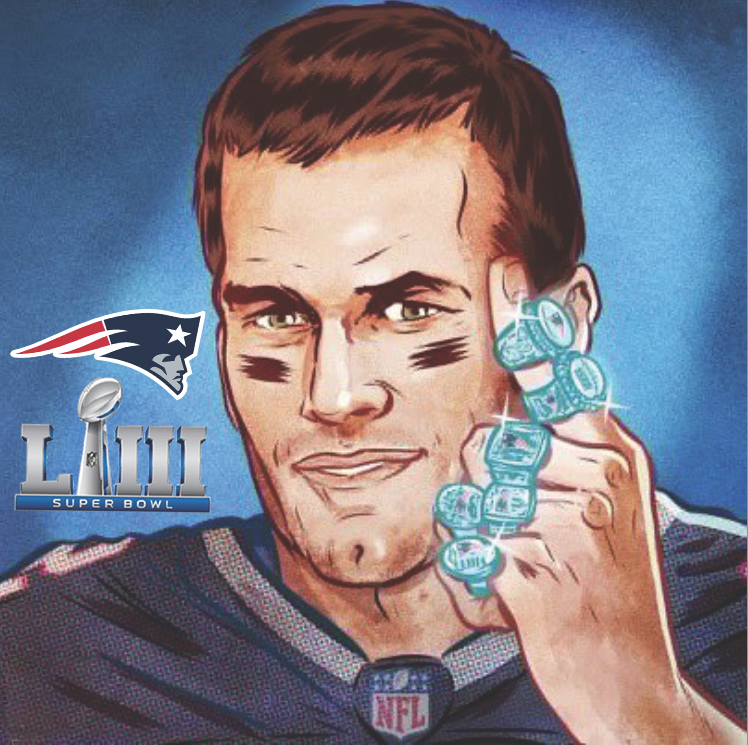 Preston Espar - Sports Editor, Nadia Grauman - Creative Director
February 25, 2019
After a defensive minded and competitive game, the 11-5 New England Patriots emerged victorious over the hometown favorite 13-3 Los Angeles Rams in Super Bowl LIII. Julian Edelman was named Super Bowl MVP after getting 141 yards on 10 receptions. With this victory, the New England Patriots have won six Super Bowl championships, all with quarterback Tom Brady and head coach Bill Belichick.
The 2018 NFL season was dominated by offense, so the 13-3 final score was both very surprising and very disappointing for most football fans—especially since this is the lowest score in Super Bowl history. The Rams boasted one of the top offenses in the National Football League (NFL), leaving many CHS football fans confused and frustrated after their meesley three point performance.
"I am disappointed," said junior Jaden Encarnacion. "The Rams have scored 30 or more points against teams with good defenses, and the Super Bowl is the worst time to choke like that."
Tom Brady, who turned 41 years old this season, now has more Super Bowl victories than any other player in NFL history and finished the game going 21/35 for 262 yards and one interception. Many people have wondered if Brady will retire soon due to his age; however, after being asked if his sixth title changes his retirement plans by CBS sportscaster Tracy Wolfson, Brady had a definite answer.
"It doesn't change anything," said Brady.
After miraculously improving from their 4-12 record two seasons ago following the hire of Sean McVay as the new head coach, the Rams must suffer the taste of defeat on the biggest stage. Third year quarterback Jared Goff struggled from the get-go of the game, as he was sacked four times and only completed 19 of 38 passes while throwing for 229 yards. Goff threw a late pick to end a possible game tying drive in the 4th quarter. Star running back Todd Gurley II also failed to live up to his potential, as he was held to only 35 yards on 10 carries.
"I didn't do a good job of getting [Gurley] into a flow tonight," said McVay. "No other way to say it. I got out-coached tonight."
In the end, the 2018 NFL season was wild, with an uncharacteristic, slow-paced championship game. The Rams and Patriots are prepared to be competitive once more, alongside teams such as the Kansas City Chiefs and New Orleans Saints, so the 2019 season is set to bring many great football matches.