CHS athletes adjust to new guidelines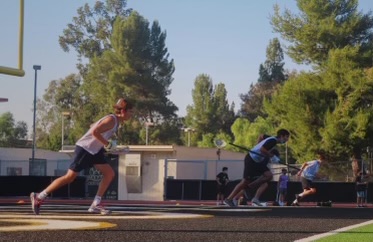 While teams are slowly starting to work to play as a normal team again, athletes are still adjusting to the change. 
Perhaps the biggest adjustments for the players are the steps they must take in order to ensure safety.  Every athlete must wear a mask, get their temperature taken, and take a survey regarding their overall wellness before they play. 
One team that has adjusted well is the Boys Basketball team. The team practices at A.C. Stelle Middle School, because their courts are outside. In addition, each player may only exchange the ball with one person, meaning that normal five-on-five play is currently not possible.
"It's a lot of individual stuff that is allowing you to get better as a player. It is for sure a positive that we get more time to focus on ourselves as the individual," said junior point guard Ben Hendelman. 
Boys Basketball usually hosts an intense summer program, but due to COVID, that program was partially in-person and partially online. As a result, many players on the team, including Hendelman, practiced on their own. Outside of Zoom and in-person workouts, Hendelman would workout about twice a week independently. 
The Boys Lacrosse team is also taking many precautions during their practices. Everyone is in pods of 10 people and are distanced from other pods. 
"We aren't interacting with people not in our pods at all. If anyone tries to, Coach [Morgan Weireter] gets on our case so everyone stays in their pods the whole time," says junior Collin Gurian. 
Weireter enforces social distancing and as a result, many of the practices are centered around conditioning instead of traditional drills. This is due to the social distancing rules as well as many players not playing organized lacrosse since March. 
In early October, former tennis coach, Gerald Matthews, parted ways with the school. Prior to the hiring of new coaches, Criss Roriguez and Josh Wiseman, both girls' and boys' teams have been struggling in terms of practices during COVID. Alexis Sassounian, a junior on the Girls Tennis team, has been practicing on her own since the team has not had consistent formal practices within the school.
"It has been hard not practicing as a team as much as we usually do, but everyone is still working out on their own," says Sassounian.