Seniors announce commitments on Spring Signing Day
Eleven CHS seniors officially announced commitments to collegiate athletic teams yesterday on Spring Signing Day. 
Nate Egerstrom will be playing volleyball for Penn State University, the third-ranked volleyball team in the country, this upcoming fall season. Egerstrom is first team all-Marmonte league and has made a significant impact on the CHS volleyball program.
"Nate's impact and legacy will be talked about for years to come," said Athletic Director Jon Palarz, speaking on behalf of the volleyball coaching staff.
Meanwhile, Holland Kaplan will be a member of the volleyball program at Vassar College. Kaplan has served as an outside hitter, team captain and team MVP this school year with a record of 200 kills and 30 aces. She was recognized as second team all-Marmonte.
"She was an offensive threat to every opponent, bringing a fierce competitive spirit to our program," said Palarz.
Peter Gray will continue his education and basketball career at Stevens Institute of Technology. Gray was a three-year varsity player and a two-year varsity starter and was named second team all-league player. Gray maintained a 5.0 GPA while leading the team in rebounding and coming in second in scoring.
"Peter set a great example as a leader for our program these past years, exhibiting all the model traits of a scholar-athlete," said Palarz in his capacity as head boys' basketball coach.
Gavin Murphy will be playing basketball at the University of Mississippi. Murphy has been a varsity player the past three years and was the leading scorer in the Marmonte League and Ventura County. He has scored 1704 points, making him the fourth all-time leading scorer in CHS history. He was voted first team all-league Marmonte, first team all-league Ventura County and MVP for the Ventura County All-Star Game. 
"He has one of the most decorated careers in CHS history," said Palarz. "With all his love and skill for basketball, we are most excited to see him at Ole Miss."
Braelon Holmes will continue to compete in track and field at West Point. Holmes was team captain of the CHS track team and helped lead the team to a fourth-place statewide relay finish.
"People look at our school for our relay team, and one of the key opponents is Braelon Holmes," said head track coach Jeff Clanagan.
Attending California Lutheran University is four-year varsity golf starter Ryan Mattivi. Mattivi was a Marmonte all-league player known by his peers and coaches as an excellent teammate.
"Not only has he lowered his scoring average each year, but he also works with others on the team to make them better," said teacher Craig Moore, speaking on behalf of head golf coach Lance Novak.
Girls' soccer MVP Caitlin Walters will be attending the University of California, Santa Cruz. Walters has been a three-year varsity player and served as team captain her junior and senior years, contributing to the overall environment of the soccer program. 
"She is the type of player that makes everyone better," said head soccer coach Brian Collins. "She is loved by her teammates and her coaches." 
Peter Lynch will continue playing baseball at Colorado School of Mines. Lynch was a three-year varsity player and a valuable leader of the pitching staff, as well as an all-Marmonte league performer.
"He had a great outing in the second half of the playoffs that led us to a win against Vista Murrietta," said head baseball coach Thomas Cassidy.
Fellow baseball teammate Tyler Shulman will continue his athletic career at Harvard University. Shulman is a four-year varsity starter and a three-time all-league performer, including first team all-Marmonte this year. As the team's second base player, he had several big wins this season.
"He is one of the hearts and souls of our team," said Cassidy. "He has one of the best work ethics out of everyone I have coached. I have so much respect for everything he does on a daily basis."
Sean Sims will be playing baseball at Marist College. Despite struggling with injuries, Sims was a three-year varsity player and finished this season with several huge home runs during playoffs.
"He has shown a lot of great heart and perseverance," said Cassidy. "Sean fought through a lot of injuries early in his career to come out and have a stand-out senior season." 
Finally, two-year varsity baseball player Nathan Zimmer will be attending Webster University. Zimmer has played right field and third base and had three big hits against Vista Murrietta in playoffs. 
"[Nathan] brings a lot of energy to the field every day," said Cassidy.
The signing seniors were celebrated by peers, staff and visiting family members.
Donate to Calabasas Courier Online
Your donation will support the student journalists of Calabasas High School. Your contribution will allow us to purchase equipment and cover our annual website hosting costs.
About the Contributor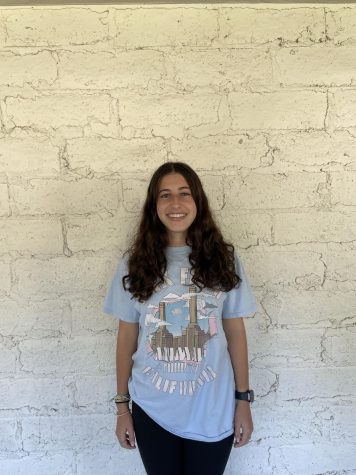 Hannah Sarnoff, Sports Editor
Hello, my name is Hannah Sarnoff, and I am super excited to be the Sports Editor this year! This is my second year writing for the Courier. I have always...