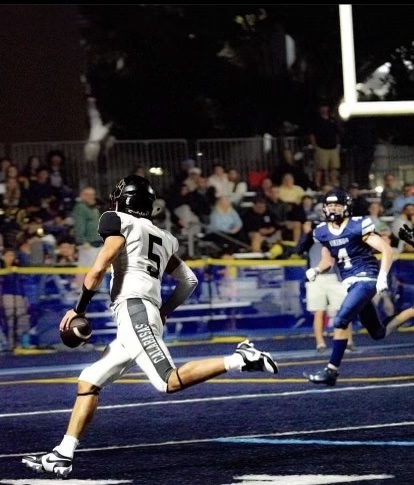 Last Friday night, in Santa Monica, the Coyotes suffered a 7 point loss to the Vikings losing 28-21. The Vikings were led by their Senior Running Back, Cade McCallum, who had 35 carries for 176 yards and 3 touchdowns.
At the end of the first half the Coyotes were leading 14-12 with Quarterback, Alonzo Contreras, throwing 2 touchdown passes to his star Wide Receiver, Aaron Butler. 
"It was just mistakes," said Contreras. "I gotta learn from it and take care of the ball better." 
Contreras ended the game with 325 yards, 3 touchdowns, and 2 interceptions. Butler racked up 10 catches for 168 yards and 2 touchdowns by Contreras's side.
"The [Defensive Back] can't hold me, he can't guard me," said Butler. 
Another standout was Junior Defensive, Back and Wide Receiver, Arion Lang, who had 4 receptions for 62 yards along with a forced fumble and an interception. 
"Aaron and Ari are our biggest contributors," said Contreras. "They're the athletes. If you get them the ball they're gonna make it happen." 
Next game, the Coyotes will take on Oak Park in their first home game of the season. "We just have to play to our standards," said Contreras. 
Tonight, CHS will face Oak Park who won their first game against Buena last week.