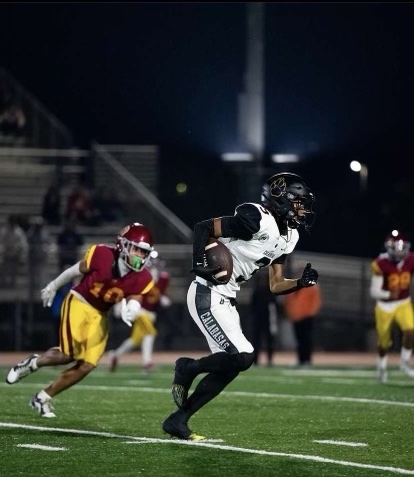 This past Friday night, the Calabasas Coyotes overcame the absences of Aaron Butler and Josh Nazmiyev to defeat the Oxnard Yellow Jackets 33-21. Caleb Yang and Danye Brown were key contributors to a balanced rushing and passing attack that accumulated 408 yards.
Both the Yellow Jackets and the Coyotes came into Friday night with a 1-3 record, but Calabasas buckled down on defense and held their opponent to under 30 points for the first time since August 25th against Oak Park.
As for the Coyotes offense, they continued a four game streak of scoring above 30 points. Quarterback Alonzo Contreras shook off an early interception and complete 21-25 passes for 286 yards and 4 touchdowns.
Alonzo's number one target was Junior Danye Brown, a defensive back who found his offensive stride throughout the game. He hauled in 4 catches for 113 yards and also scored the Coyotes' 3rd and 5th touchdowns of the night.
"We rotated him more on defense to keep him fresh," said Coach Cary Harris. "We made him our number 1 wide receiver and wanted to increase his targets."
Brown said that he grew to feel more comfortable in an offensive role. 
"I felt like a man amongst boys out there," said Brown. "I feel like some big games are coming with having a more important role in the offense."
Along with Danye's performance, Senior Adam Geukens also posted a season high 6 catches for 84 yards with a touchdown. Julien Marx only had one catch but it was a 6 yard receiving touchdown. With a lack of clarity regarding Colorado-bound Aaron Butler's future at CHS, a multitude of targets will open up for receivers in the Coyotes offense.
With the Coyotes rushing out to a quick lead, the defense only allowed three touchdowns, with two coming late in the game. In addition to Adam Geukens receiving a touchdown, he secured an interception as well. The defense also had 55 tackles and 4 tackles for loss. 
Running back Caleb Yang continued his torrent senior season with 151 total yards and a rushing touchdown. He collected 7 receptions for 52 receiving yards and was also one yard shy of 100 rushing yards. After a slow start to the season, he owns a streak of three games in a row with at least 77 rushing yards.
Tonight, the Calabasas Coyotes begin Marmonte League play against the Oaks Christian Lions. The Coyotes lost a televised game against the Lions last year, and look to rebound with the addition of some key transfers.