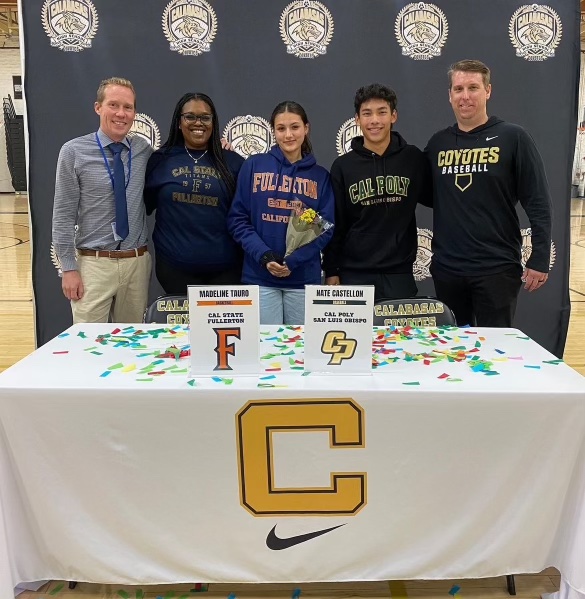 On Nov. 8th, National Signing Day, CHS recognized seniors Nate Castellon and Maddy Tauro, both of whom are committed to colleges with sports scholarships.
Nate Castellon officially committed to Cal Poly San Luis Obispo to play baseball on Aug. 8th. He was initially committed to the University of the Pacific, but his visit to Cal Poly made him reconsider.
"It was unbelievable how amazing the campus was and the college town that surrounded it," said Castellon. "I knew once I stepped on campus for the first time that's where I wanted to go.
He sees Cal Poly as the right place for a great college experience and to set him up for a career in baseball later in life.
"I have dreams of playing professional baseball, and that starts at Cal Poly," said Castellon.
Maddy Tauro officially committed to Cal State Fullerton to play basketball on Sept. 22. Fullerton was Tauro's top choice, and she had an incredibly positive reaction to Fullerton's social and athletic environment, which heavily influenced her decision to commit only three days after Fullerton offered her a scholarship. 
"It was the girls, the way they treated me when I came," said Tauro. "The campus, beautiful. And I watched their practices, and just the way that they run their practice, I see myself thriving at Fullerton."