Coyote Corner begins weekly livestreams
This year, the AME Broadcasting class is streaming live segments weekly, right here on campus. This brand new show, Coyote Corner, will be airing every Thursday to create a more engaging way to give students information on important topics and school events.
Sophomore Jesse Brasler, one of the show's first hosts, believes that by using visuals in place of the intercom to inform students, the audience will stay interested and more excited for what's next.
"The goal is for [the show] to become iconic over time," said Brasler. 
KYOTV broadcasts, the existing form of video media at CHS, have mostly been pre-recorded. Live broadcasting for Coyote Corner requires additional skills from the crew due to the pressures of acting on the spot without error.
"Everyone has to be on their A-game at all times in order to really get the job done and make the video as professional as possible," said Brasler.
AME advisor Richard Lopez hopes to further prepare his students for future employment in the broadcasting industry through the show's live format. 
"We are so close to Hollywood that having a live broadcasting news type show really fills out all the other things we're doing with film and broadcasting to further prepare our students for this industry," said Lopez.
Coyote Corner plans to have new hosts shown weekly in order to add greater student diversity, giving everyone an equal chance to be in the spotlight and ultimately keeping the student body excited for more.
"We want everyone in the class to work in as many positions [as] they can, on and off camera, to ensure everyone has an opportunity to be a part of something great," said AME student Noah Grismer.
While only a few students are shown on screen, live streams require an entire team of writers, reporters and filmers. With all of the teamwork that goes into the final project, the group has created a close community within the classroom.
"We would not be where we are today if it weren't for our entire team and staff giving it their all," said Brasler. "Truly, it's a passion we all share and love doing, so being able to share it with everyone is very special."
 The Broadcasting class will also be opening up its own studio, providing students a designated workplace in which they can film. This will be incredibly beneficial to the continued growth of filming and media at CHS. 
"It is definitely an honor how we are one of the only public schools I know that will be building our own studio for filming in room L5, and just being able to really learn and grow in this new studio we can soon call ours," said Grismer.
Though the broadcasting team is pursuing expansion opportunities, members are still learning and evolving together each day.
  "We are building the plane as we are flying it, and that is the philosophy behind the whole class: to learn by doing as opposed to prior knowledge," said Lopez. 
Future broadcasts can be found on the CHS KYOTV Youtube channel.
Donate to Calabasas Courier Online
Your donation will support the student journalists of Calabasas High School. Your contribution will allow us to purchase equipment and cover our annual website hosting costs.
About the Contributor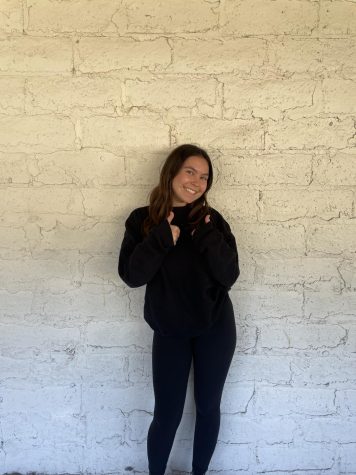 Madisyn Damas '23, Staff Writer
Hi my name is Maddie! I love to workout, hang out with friends, listen to music, shop, go to the beach, play with my dog, and be with my family. This year...