The start of the 2023-2024 school year brought many changes to CHS. From a new principal to facility upgrades, the differences are evident. Many are wondering, however, why despite the administration's statements to the contrary, class sizes appear larger.
"There hasn't been a drastic change," said CHS Assistant Principal of Curriculum and Instruction, Carina Diana. "As a school, we want to be fiscally conservative […] but there has been no guideline change. We operate under the same umbrella and guideline. We did 38-40 [students per class] last year as well."
Despite the same guidelines, there is a distinct difference from last year.
"It may feel that there are less teachers because the sections are essentially at their maxes which is 38-40. But there really hasn't been a drastic change in allocations," said Diana. "I think maybe there were less classes that were running to 40 last year. That could be the change."
"Just to be fiscally conservative and use the allocated sections we have to their max," Diana explained as the reason for this change. "That's just spending the money that we get allocated based on each student wisely. I think that's the perception change from the students."
It is also possible that this happened due to issues with course section projections for the 2023-2024 school year.
"In trying to figure out exactly how many sections we needed, the more conservative approach is to start small and then if we need more […] to add sections where they're needed. Because then we're not using money needlessly," said CHS academic counselor David Rivas. "There was a projection of the area of need […] what ended up happening was our need ended up being greater than our projection."
It seems that this was due to an increase in the student body.
"The master [schedule] is built on projections from an attendance perspective," said Diana. "Calabasas did get a huge influx of permit students this summer—way more than any other school in this district—so that could have had an impact on sections because those kids were unenrolled when we were building the master in the spring." 
Nonetheless, this is not the only cause of the inaccurate projections.
"I think also what was a big impetus in the changes in the master schedule the last couple of weeks were different student course requests," said Diana. "The course requests that were in the system last year changed a little bit. What happened was it impacted different classes so we needed to open up the right sections based on what the students needed."
Regardless of the cause, to remedy the overcrowding issue, over Labor Day weekend, more class sections were added and students' schedules were adjusted accordingly. This adjustment, while it was necessary, came with a great impact on students. Some fixed schedules were disrupted again leaving students to contend with entirely new schedules and teachers having to give introductory material well into the school year to help students catch up.
Nevertheless, this may not be the only reason for a changing perception of class sizes. AP Government, AP Research and AP Seminar teacher Bradley Boelman explained that the changing number of teachers with Six Fifth's contracts may be influencing the change. This contract gives teachers a higher salary if they teach all six periods instead of taking a prep period.
"I have a prep (a period where teachers do not have a class so that they can plan their lessons, grade assignments, etc.). But if you don't have a prep, you get paid more," Boelman said. "Oftentimes it's 'we're going to have a teacher add another section' rather than hire a brand new teacher. I think that because, for example in the social science department, more than half of our teachers are on six-fifths […] We could, in theory, hire another teacher, but now you have to pay medical insurance and stuff like that […] but the perception is teachers are kind of overloaded—maybe if you hired another teacher that perception might be different."
Another possible reason for larger class sizes is changes in maximum class size. While the biggest approximate class size was 40 both for the 2022-2023 and 2023-2024 school years, the 2021-2022 school year classes were capped at 34 students. Potentially a gradual increase in class size could account for the change in class sizes.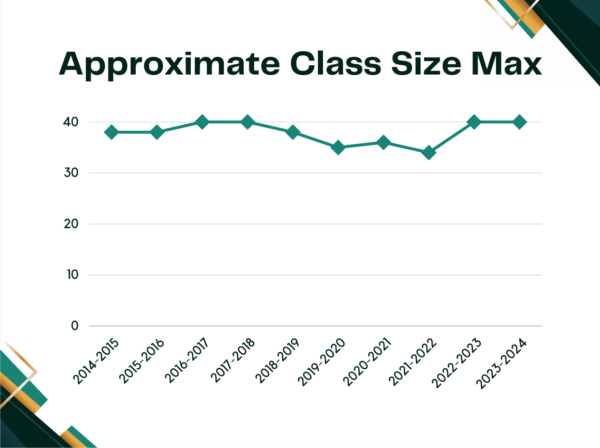 No matter the cause, the data confirms an increase in class size. This will not come without consequences.
"I think that it's not good that class sizes have been increasing because the teacher has to control like 40-50 kids and no one gets attention. It's like a zoo in there," said CHS senior Ari Aarons. "No one is paying attention and no one learns anything. Especially in a couple of the classes I'm in, like government. There's so many kids and the teacher doesn't care enough to make us stop talking."
Despite its urgency, this lack of attention does not seem to be the most pressing class-size problem on teachers' minds.
"Class size has one big issue," said AP Government teacher Lance Novak. "It doesn't really change how I teach so much, but from a grading implication, it just takes longer for me to grade and get work back in a timely manner when you have four classes of close to 40, it takes a while to get information back [to students]. With my teaching style and the subjects that I teach, it's okay because I can give a lot of group work that I like to do, so it works out okay, but from a grading standpoint it puts a lot on the grading standpoint side of things."
As of Sept. 8, the biggest class size on average at CHS is 39.76, as gained from a survey of 21 teachers across each department. The fact that the mean class size is at class capacity, with some subjects like Social Studies and Science having an average slightly above 40, is incredibly concerning for student learning, as Diana explained.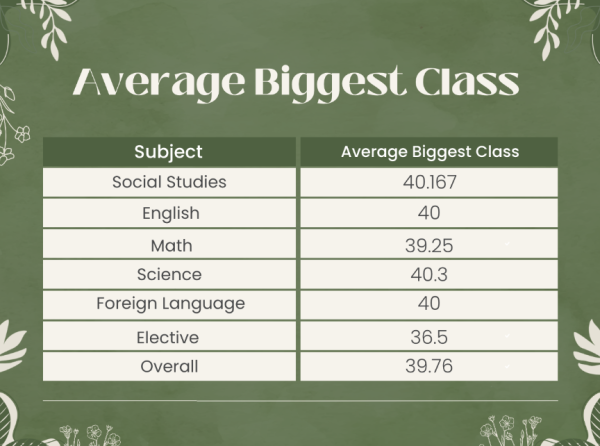 "There's no class cap," said Diana. "We like to keep class sizes 40 or under because we want students to be in the best possible learning environment and if you have classes that are larger than that it could put some strain."