Admin works to prevent continued false alarms
CHS Administration has taken initiative to prevent the disruptive and concerning fire alarms that have been going off in recent weeks due to their being pulled by students.
After eight false alarms were set off in the H Building, Administration Office and Multipurpose Room, administration manually took care of the issue by installing fire alarm pull station covers in an attempt to prevent further student-caused disruptions, according to principal CJ Foss.
"Please know that we are working on finding a solution as quickly as possible," said Foss. "[We administrators] are as annoyed with the bells as are the students and staff."
When an alarm is pulled, administration has to check an alarm indicator in the main office to locate which alarm went off. Then, a staff member is dispatched to check if there really is a fire.
One extreme case occurred on Tuesday, October 1st when the alarm went off for 20 minutes during third period. Even when the alarm went silent for a few minutes, it sounded again soon after.
"Each alarm has a key that resets it," Foss said. "On Tuesday, the alarm was pulled in the MPR and the key didn't work so we had to manually override the system until the alarm company could take it off-line. We can temporarily disarm the system while we are checking, but the alarm will go off again until the key resets it."
Due to the possibility of false alarms, students are advised to remain in the classrooms unless the administration has confirmed that there is a fire. Some students expressed concern that the alarms may be pulled by an intruder and used as a trick to endanger students, according to Foss. This concern was likely sparked after the shooting at Marjory Stoneman Douglas High School in Parkland, Florida in February of 2018.
"While that is highly unlikely, I can understand the students' concerns," said Foss. "I also monitor the cameras from my office, checking for unusual activity."
Students are also not advised to leave the classrooms to escape the noise. Although going outside to a bigger area might seem to create a quieter environment, this is not the case.
"Leaving the classroom would not help with the ear strain," said Foss. "[The alarm] is just as loud outside."
Donate to Calabasas Courier Online
Your donation will support the student journalists of Calabasas High School. Your contribution will allow us to purchase equipment and cover our annual website hosting costs.
About the Contributors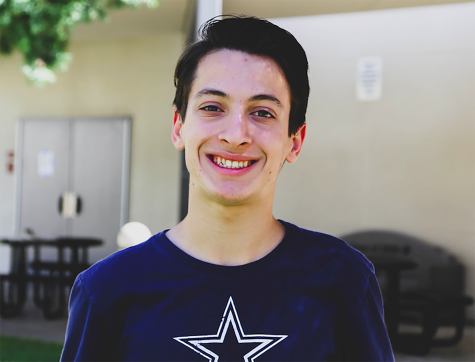 Aren Kevakian, Sports Editor
Hi! My name is Aren Kevakian and I am a senior. This is my second year on the Courier and I am the Sports Editor. I love the Courier because I love to...
Liv Dufine, Editor-in-Chief
My name is Liv DuFine and I am an Editor in Chief and Co-Creative Director of the Calabasas Courier! I love the Courier because it gives me an opportunity...