California Frozen Poppers changes the popcorn game forever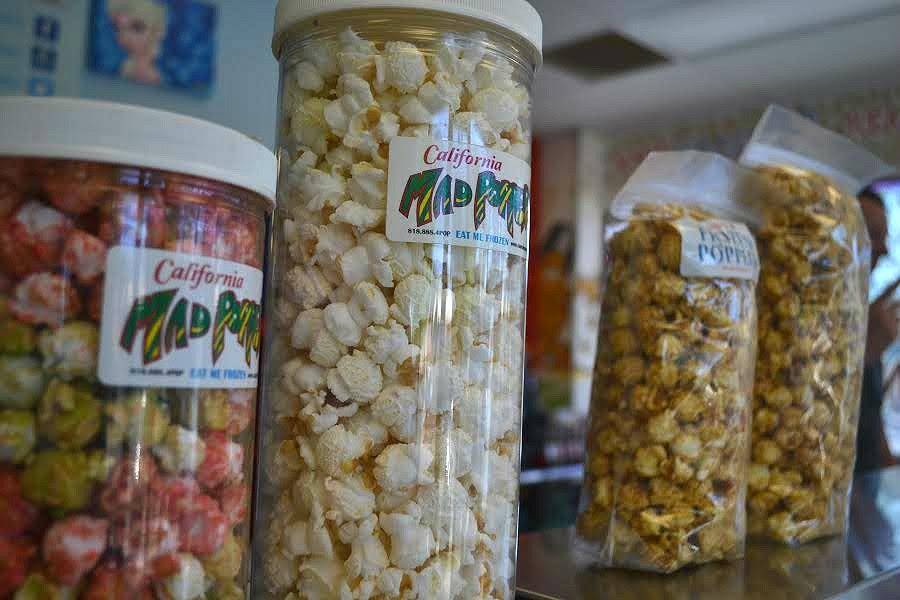 Popcorn has always been a movie theater favorite and an irresistibly crunchy snack, but California Frozen Poppers, a West Hills-based company is changing the popcorn game in a unique way. California Frozen Poppers offers an incredibly wide range of popcorn flavors that are all frozen. This frozen and re-freezable popcorn is the first to ever be sold in the world and is an experience guaranteed to be loved by children and adults alike. Each frozen, chewy and delicious bite provides a mouthful of flavor that is out of this world.
Started by Josh Chaney and his significant other, Sulmaz Rahimpour, in 2010, California Frozen Poppers has taken off into business like no other. The couple—dubbed "The Mad Poppers"— first met while both serving food to the homeless on Skid Row. With their shared love for helping others, food and Chaney's 100-year old family recipe for caramel, California Frozen Poppers was born. Offering delicious treats at their store, through wholesale and even at events and parties proves The Mad Poppers' dedication to spreading happiness and deliciousness through a frozen, popped dessert.
"At California Frozen Poppers we do it different than anyone else out there," say owners Chaney and Rahimpour on their website, cafrozenpoppers.com. "The Mad Popper and The Crew make sure to put a whole lot of love and positivity into the process which is hand-made!"
From classics to combinations for the daring, California Frozen Poppers' impressive lineup of different flavors ensures a popcorn variety to satisfy every customer's taste buds. For those who prefer the classics, kettle, caramel and peanut butter popcorns will not disappoint. Chocolate lovers will go crazy for s'mores, Oreo, birthday cake and even the "OMG" with peanut butter and M&M's. Customers with a bit more of a sweet tooth will be more than satisfied with the selection of candied popcorns featuring flavors based on cinnamon candy spice, Fruitilicious, toffee and circus animal cookie. From garlic and cheese to jalapeño and habanero, those looking for a little savory kick in their snack are also in for a surprisingly treat. With dozens of seasonal and regular flavors to choose from, California Frozen Poppers offers a unique popcorn experience unlike anything before.
"The unique popcorn at California Frozen Poppers was unlike anything I had ever tasted before," says sophomore Josh Roggin. "The frozen crunch and array of flavors were unbelievable."
The Mad Poppers also distinguish their business from competitors and stay true to their passion of helping others with a special flavor sold, Trippadoodle. This Skittles popcorn is sold in honor of a young boy named Tripp, and 50 percent of the proceeds are donated to Tripp and his family. In October of 2012, Tripp, then only a toddler, was involved in a horrifying accident that left him with permanent brain damage and fighting for his life. At his daycare, a limb broke off from a tree and fell to the ground, damaging Tripp and his skull in the process. Even after spending five months trapped in a hospital room, Tripp continued to struggle each day to get stronger, while his family coped with the cost of seemingly endless medical bills. For every bag of Trippadoodle purchased, this young fighter and his family gain support, funds and encouragement.
California Frozen Poppers is not only unique because of the one-of-a-kind frozen popcorn, but also due to the way the owners make customers feel at home. The atmosphere of the store, as well as the crazy and freshly made unique flavors, produces an experience people of all ages can enjoy. From feeding delicious dessert to popcorn-lovers across the valley to giving back to the community, The Mad Poppers created something special with the world's first frozen popcorn store.
7138 Shoup Ave, West Hills, CA 91307