Carmela Ice Cream Company brings gourmet desserts to Woodland Hills
On Feb. 13, Carmela Ice Cream Company opened its new location just minutes from CHS. The trendy storefront features fresh, delicious ice cream as well as homemade waffle cones, ice cream sandwiches and an assortment of baked goods and hot drinks. The eatery, which was established in 2007, has earned numerous awards, including the title of #1 Ice Cream in LA by Los Angeles Weekly in 2011.
Carmela Ice Cream is an exciting and tasty addition to the local food scene. The Topanga Boulevard storefront was designed to incorporate a unique, modern ambiance. Funky, upbeat tunes blast from the speakers. The warm tones of the maple-wood seen within the tables and chairs offset the focal point of the shop: a grand, jutting pink onyx cube, backlit by led lights. Here,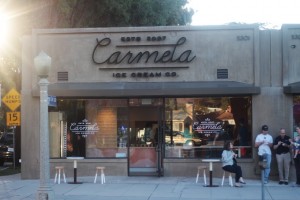 customers are able to order their little tastes of heaven.
Carmela started as the brainchild of owners Jessica Mortarotti and Zach Cox, who first began selling their icy creations at farmers markets. Carmela's business model incorporates the use of organic and locally sourced ingredients to produce a base from-scratch for both classic and garden-inspired flavors. (The word Carmela, which was named after Mortarotti's grandmother, translates to "garden.") The flavors range from Brown Sugar Vanilla Bean and Salted Caramel to Lavender Honey and Meyer Lemon Olive Oil. Chocolate lovers can also find solace in flavors such as Dark Chocolate Cacao Nib and Chocolate Sorbet and coffee-snobs can satiate their passion for the bean with the Intelligentsia Espresso flavor. Carmela ice cream, which is the scrumptious result of on-site pasteurization and time-intensive methods, is able to maintain a light and creamy texture while incorporating intense and deliciously unique flavors. It is unlike chain-brand ice cream because of the intricate production process.
"We are super excited to be a part of the Woodland Hills community," said Jessica Mortarotti, Founder and Flavor Developer of Carmela. "I have childhood memories of our neighborhood ice cream shop and we are hopeful the people in the community will make Carmela their own special ice cream spot."
5301 Topanga Canyon Blvd. Woodland Hills, CA 91364