New Calabasas Academic Decathlon team triumphs in Ventura County competition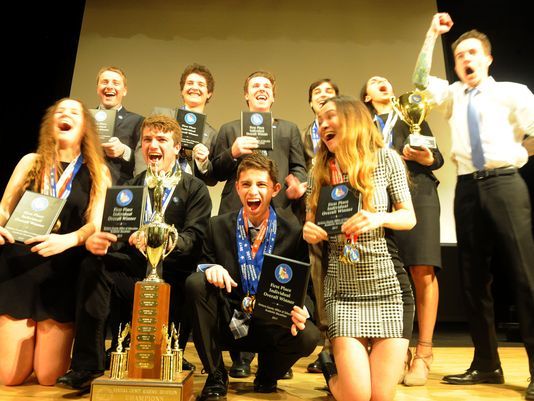 On February 7, Calabasas High School won the Ventura County Academic Decathlon. Despite being new to the program, the Calabasas team defeated two powerhouse schools: Westlake High School, which had won the competition every year for the past five years, and Oak Park High School, winner of the competition's Super Quiz this year and in 2016.
"We were so surprised to win our first year and we really appreciate all the support we have received," said senior Nika Esmailizadeh.
Calabasas High School placed first out of 29 teams, meaning they will go on to the state championship, which will take place March 23-26 in Sacramento. If all goes well, the team will move on to the national championship from April 20-22 in Madison, Wisconsin. The members of the Calabasas team are Alex Poran, Erin Pool, Laura Myerly, Isaac Merritt, Rustin Mahboubi-Ardakani, Nika Esmailizadeh, Tyler Jensen, Justin Golub and Jeffrey Litinsky.
As newcomers to the Academic Decathlon scene, Calabasas High School had lots of work to do to match the abilities of their fellow competitors. The team admitted that it took a few months to get adjusted to the program and its rigorous training. However, studying became easier once a few months passed by and the athletes found their rhythm.
"Our secret to success would have to be the hard work and dedication of the students," said coach and AP U.S. History teacher Tyler Lee.
The team worked incredibly hard for their big win. They practiced diligently about four days a week for hours after school, even through finals. Such a time-consuming activity would be challenging for any student, let alone AP students with college applications and standardized testing to worry about. Despite their obstacles, the bond between the whole team allowed for an enjoyable experience.
"We studied countless guides, flashcards and powerpoints, but ultimately, our greatest source was each other," said senior Alex Poran.
Students competed in art, economics, language and literature, mathematics, music, science and social science. Senior Erin Pool won gold medals in music, economics and art; silver medals for science, language and literature; and earned third-place across all scholastic categories.
"It was a pleasant surprise for everyone on the team to enjoy subjects we were not initially interested in," said Pool. "As we studied, all of us began appreciating the subjects more and more."
Calabasas High School is thrilled that the new Academic Decathlon team had such a successful performance at their competition debut. Members are grateful for the opportunity to explore different subjects and make new friendships within the team. They thank all their friends and families for the steady support and look forward to competing in the state championships.