Boys' Volleyball starts season strong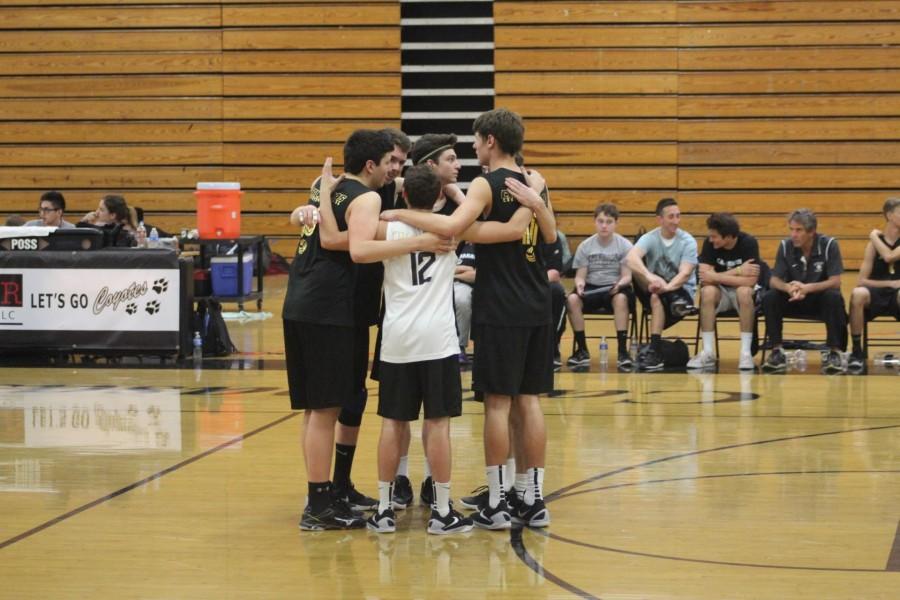 The 2016 season is 'setting' up to be an impressive one for this years Boys' Varsity Volleyball squad, starting its year off with a record of 5-0. The team feels as if it could have achieved more last year and is ready to prove a point to its local opponents. With a nice balance of seasoned upperclassmen and young talent, the Coyotes are poised to make a run in the Maramonte League.
The team is well rounded in several areas but its strong suit is definitely it's hitting game. Senior Liam Bonniot plays the outside position and junior Martin Barbosa plays opposite while Cal Lutheran University commit, senior Jacob Colson, occupies the middle.
Barbosa leads the team in kills and at 6'6" is a powerful block. Bonniot has executed the second most kills on the year and is one of the most notable athletes in the rotation. Colson is an impressive blocker and chips in his fair share of kills as well. Considering this Barbosa, Bonniot and Colson trio combines for an average height of 6'3" and an average vertical of 32 inches, the Coyotes are pretty confident in both their offensive attack.
"We're all big hitters and know how to challenge big blocks," said Bonniot. "We all know our role and how to play it to the best of our ability."
The hitters give a lot of credit to starting setter, sophomore Brendin Chandler. Chandler has proven to be an effective player in several contests, including a game on Mar. 9 in which he lead CHS to a 3-2 win over Simi Valley with a season high of 52 assists.
"Brendin has done a great job of setting our one-on-one match ups," said Colson. "Keeping our hitters isolated throughout the season will lead to lots of success"
The rest of the starting line-up consists of junior middle blocker Harrison Franz, and brothers junior Jack (lîbero) and sophomore Luke Ribarich (outside hitter).
This year's team seems closer compared to those is the past. The close relationship between teammates generates great chemistry and positive vibes. The players believe that some of their accomplishments on the court result from the time they share bonding off of the court.
"Our team chemistry is a huge factor in our success," said Luke Ribarich. "Off the court we are one family which translates to on the court we play as a singular unit."
As they head into the thick of their season, CHS boys' volleyball looks as strong as ever before, becoming more confident in its identity. While the team bond and recent success is very rewarding to the players, they stress the fact that they are still far from satisfied and are prepared to battle and beat their rivals in league play.