Outdated, but still relevant: The Duff finds a way to teach a time old tale of self discovery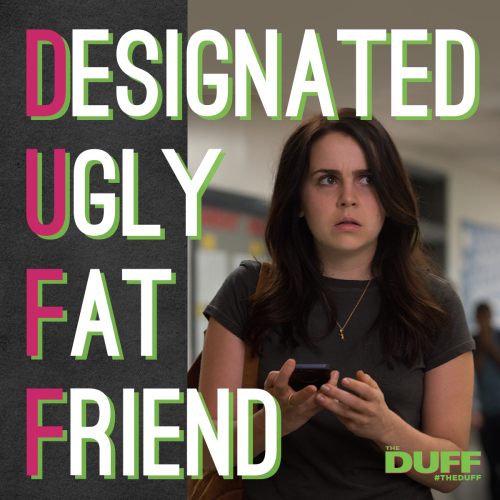 Hang on for a minute...we're trying to find some more stories you might like.
The comedic teen favorite by best selling author Kody Keplinger is finally coming off the page and on to the big screen to inspire teens everywhere. Keplinger's The Duff is being adapted into a coming of age movie that follows the quirky story of the high-school senior Bianca. In this movie Bianca challenges the typical school stereotypes of the jock, the geek, and the prom queen. While unassumingly thinking she is above labels, Bianca has a rude awakening when she discovers that her prettier and more popular classmates know her as the designated ugly fat friend, commonly referred to as the "DUFF". In a mission to thwart the clichéd high school personas that run her school, Bianca then seeks the help of her good friend Wesley to overthrow the school's passé system of typical teenage labels. Together Bianca and Wesley strive to remind everyone that no matter what one looks like, they are all someone else's duff.
The film teaches teenagers an important lesson, this lesson is to not put labels on others. While high school teenagers can sometimes be the instigators of school drama when it comes to assigning labels and starting rumors, the movie depicts teen culture in an outdated and unrealistic way. Like most high school-oriented movies, the representation of students' personalities is tired and greatly exaggerated with bad acting. The "mean girl" character's conventional story of being tortured by her popularity and the mundane personalities of Bianca's two best friends make the story not relatable for teens in 2015. However, despite the tired plot of overcoming stereotypes, this film's main concept of being a duff is something that everyone can relate to.
Unlike many movies that focus specifically on bullying and students who are picked on, this story focuses on the light that can be brought from one's bully. When Bianca realizes that she is being called a duff, she does not try to change herself in order to fit in. Rather, she convinces everyone that we are all duffs to someone else. As the saying goes for the movie, "either you know one, have one, or are a duff". Although the storyline of an underdog learning to accept herself may seem unoriginal, the message is still relevant in this day and age.
Be sure to head to the nearest theater and indulge in this wondufful coming of age movie.