Junior Elijah Schwartz exemplifies dedication and passion for the community as a driven Boy Scout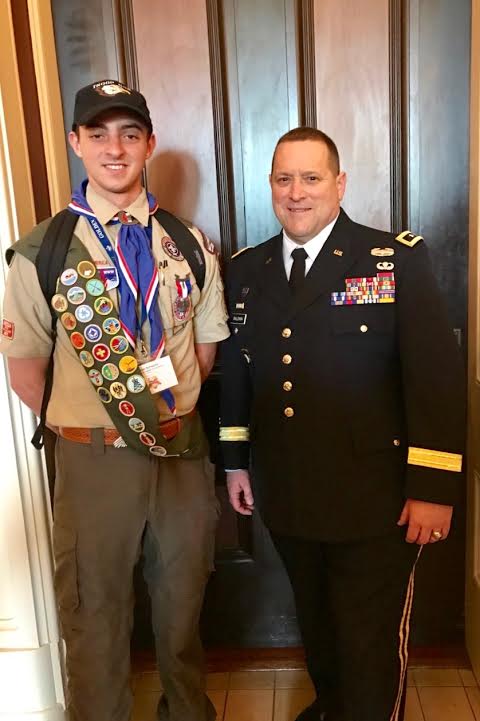 Whether it be working with children, animals or volunteering for different organizations, everyone has a cause in which they have passion for and believe in. For junior Elijah Schwartz, helping his community is what drives him to be a role model for youth in not only Calabasas, but in the entire state of California. He does so by participating in the Boy Scouts of America. Through his active involvement in the organization, Schwartz has received a variety of opportunities that are unique to typical high school students.
Schwartz has always had a strong aptitude for public speaking. His natural comfort in front of crowds, along with his affiliation to the Calabasas community, has led him to be recognized by the state government. Schwartz was flown all the way to the state capitol, Sacramento, to meet with government officials. While there, he communicated with highly distinguished individuals, including the General of the National Guard, Speaker of the Assembly, Governor, State Treasurer, State Attorney General and Superintendent of Public Education.
"What led me to this opportunity in the first place happened last November," said Schwartz. "My volunteers and I successfully planted half a dozen trees with an appropriate eco-friendly irrigation system that in turn the student body can facilitate at CHS."
Schwartz's successful irrigation techniques and his efforts in campus beautification provided him with a suitable topic to speak about. At his Boy Scouts award ceremony in February, he gave a speech addressing what community means to him and the world. The speech was recorded and sent along to state officials who then offered him the chance to represent youth and Boy Scouts in a meeting with California's government.
"In Sacramento, I was able to ask key questions on how California operates through the mediums of education, security and legislature," said Schwartz.
Because of his speeches and subsequent meeting with the California government, Schwartz now has multiple internships in the works to maintain a connection with the officials he has met. He aims to ensure that the youth's voices are well heard and represented at a state level.
"I was also granted the chance to emcee a national award ceremony sponsored by the BSA," said Schwartz.
Throughout his entire experience, Schwartz has found his true passion. His involvement with the Boy Scouts of America has helped him to realize that being involved in a bunch of small endeavors is not nearly as rewarding as finding one purpose that is important and means something to oneself.
"It's all about picking what is important to you and sticking with it," said Schwartz. "And having no expectation in mind except promoting the morals you wish to spread to better set yourself and others around you."
   Schwartz is an example of how passion for helping the community can lead to accomplishments and opportunities like no other. Hopefully, his success inspires students to work hard and find their niche.