Sugar Balls Bakery offers delightful goodies for every special occasion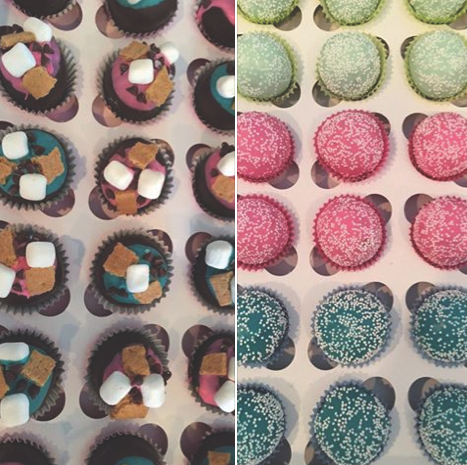 Danielle Klinenberg-Staff Writer
April 23, 2015
One bite into a small, circular, sweet treat from Sugar Balls Bakery can hook anyone on the delicious uniqueness of cake pops. Sugar Balls Bakery, a home-run business within the Calabasas community, has mastered the art of the cake pop, convincing delighted customers to come back for more mouth-watering treats. In 2013, owner Stacy Sturm decided to make desserts for her son's bar mitzvah. Sturm made cake pops in her son's favorite flavors and decorated them specifically for him. The treats were a huge success, and soon she had requests for orders and recipes. Ever since, Sturm has been making festive cake pops for a plethora of events.
"I've always loved baking," said Sturm. "After making my first batch [of cake pops] for my son's party, I started getting calls from people asking if I could make them for their event."
From birthday parties to CHS homecoming, Sturm has been dedicated to adding a special treat to every celebration to make it more memorable. She loves to experiment with different recipes and create new flavors that appeal to a broader clientele. Some of her most popular flavors are cookies and cream, red velvet and chocolate chip cookie dough. Sturm makes her cookies and cream cake pops with white cake mix, Oreo cookies and cream filling frosting. These cake pops are appealing to both the eye and mouth with a decorative mini Oreo cookie on top of each cake pop. Being the sole owner and chef allows Sturm to create seasonal flavors and meet customers' special requests for candy bar inspired cake pops.
"I absolutely love making people happy," said Sturm. "When I make a big order for a wedding or party and I get emails or tagged in Facebook posts with people saying how special and delicious they were, it makes me happy."
Sugar Balls Bakery goes to show that hard work and dedication pay off whether a company has a state-of-the-art bakery, or just a single person passionately whipping up his or her favorite desserts. Sturm has made her bakery successful without leaving the comfort of her home, proving that success is attainable if you just have the courage to reach for it.