Courier Quiz: Which high school stereotype are you?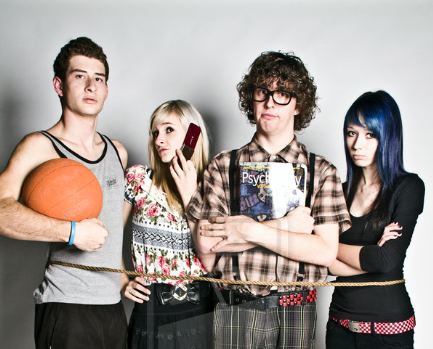 Hang on for a minute...we're trying to find some more stories you might like.
Written by Peyton Herzog – Features Editor
1) You are really nervous for the first day of school. How do you relax?
a) I go to the gym. I can practically feel my nerves sweating away.
b) Write, dance, sing, paint. Anything creative that will help me express my feelings.
c) Start studying. Better be prepared for a pop quiz, especially in all my honors classes.
d) The only thing I am nervous about is if my outfit will be cute enough. Better do more shopping!
 2) High school is just the start to a long career. What is your dream job?
a) I am working on getting scouted for a sport. Hopefully, I will make it to the major leagues.
b) I want to be a writer or a musician, anything that will show off my creativity and spunky spirit.
c) A doctor, engineer, CEO…the possibilities are endless.
d) A party planner is the perfect job! I love to party, plus my organization skills will come in
handy.
3) High school classes are very different from middle school classes. What class are you most looking
forward to?
a) My sport. I am the best player on the team.
b) Theater, Fine Art, Dance or Ceramics. These classes are all unique and fun, rather than a typical
class where you have to take notes all period.
c) All my AP and honors classes. There is nothing more satisfying than a good challenge.
d) I love my foreign language class. Although learning a new language is difficult, the knowledge
will definitely come in handy when I travel the world.
4) With so many new people, you are bound to develop a crush. Who will you like this school year?
a) Someone active and fit. I love to work out, and hopefully he or she will too.
b) The person in my science class who is always doodling. Maybe we could doodle together.
c) Anyone who I can have intellectual conversations and political debates with. I love someone
with a brain.
d) Someone who can make me laugh, and maybe someone who will come to the mall with me.
Mostly As: Jock
Congrats! You are a jock. Whether you love to watch the Olympics on television or love to jog on the field,
CHS is the perfect place for you. Make sure you try out for a sports team this school year.
Mostly Bs: Artsy
Congrats! You are artsy. With a phenomenal theater arts program and a renowned music program, CHS
is the perfect environment to release all your emotions on stage. If you prefer to be behind-the-scenes or
in the pit, CHS' new Performing Arts and Education Center is perfectly designed to accommodate all the
behind-the-scenes features. There is a perfect niche for every artsy student at CHS.
Mostly Cs: Brainiac
Congrats! You are a brainiac. With 12 AP classes and 9 honors classes available, CHS offers a wide variety
of challenging academic courses. Also, CHS has amazing opportunities for tutoring, such as Math Honors
Society and National Honors Society. Grab your graphing calculator and flash cards because this year is
going to get crazy!
Mostly Ds:  Trendsetter
Congrats! You are a trendsetter. The H-building is your new runway. Strut your attire from classic stores
such as Brandy Melville and Free People. Make sure you go to the Topanga Mall or check out a local thrift
shop for a vintage look. Just be sure to follow the dress code for school and wear appropriate clothing